UCP taking rural crime to task
Posted on December 14, 2017 by Vauxhall Advance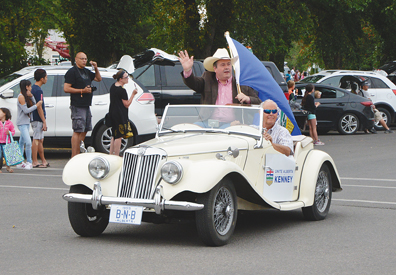 ADVANCE FILE PHOTO
By Cole Parkinson
Vauxhall Advance
With the continuing rise of crime in Alberta, the United Conservative Party is hoping they have a solution to curb the many issues that have faced Albertans.
The UCP have introduced a rural crime task force to travel to communities across Alberta who have seen a severe increase of crime with the idea to get detailed information to place task force members to make the area safer.
"As I travelled across the province over the last 18 months, the overwhelming message I received from rural Albertans was that they are fed up with NDP inaction," said UCP leader Jason Kenney.
"The task force will engage meaningfully with Albertans on critical issues – something the NDP has been unwilling to do for more than two years now."
While the task force is certainly new for the UCP party, the idea had first been put through by the former Wildrose Party.
"Back when we were Wildrose, there was a crime task force created as well and I think Angela (Pitt) and Don MacIntyre were on that. Then of course unity came along, the leadership race and the whole thing fell apart, they did get through one meeting I believe in Red Deer. They were heading this way and we were going to have one in November but all of a sudden police couldn't make it, all the people we had lined up had a problem coming," said Little Bow MLA Dave Schneider. "Now this thing has been set up so it will be the same idea and they'll be travelling around Alberta to select the areas. They'll listen to concerns from rural Albertans about rising crime rates and try to come up with a report or something that can be tabled to legislature. It's hard to take, being in a rural community or a village or a town is one thing but out on farms, good grief. People are getting pretty brazen coming to steal stuff from farms."
So far membership includes MLAs Angela Pitt from Airdrie, Mike Ellis from Calgary-West and Don MacIntyre from Innisfail-Sylvan Lake as well as local municipal and law enforcement officials. They will be tasked with reporting back to the UCP caucus with action plans to address the issues that the communities are faced with.
While the task force may present the option of more policing in rural communities, many municipalities across the province have introduced their own community peace officer programs including the M.D. of Taber.
Another question about the task force is how they will work with the local law enforcement agencies located in the rural areas.
Schneider expects them to be involved with the meetings that will happen when the task force starts to travel across Alberta.
"RCMP, range patrol, citizens on patrol, peace officers that work for municipalities those are the kind of people that we would also have at these meetings and try to involve all of those folks to get some idea of what they are seeing and thinking," said Schneider who also expects the task force to have some sort of impact within the Little Bow riding.
Schneider himself grew up in rural Alberta and the rising crime rates are something he has never seen throughout his life.
"Us folks who have lived in rural Alberta all of our lives have never had an issue anything like this. I mean keys left in vehicles, doors unlocked all of that stuff and it's really coming now that you have to take care of yourself," said Schneider. "You have to prevent crime in your yard and home."
One of the problems that has been a factor discussed by local law enforcement is criminals from cities travelling around the countryside.
While he hasn't been affected personally, Schneider has seen first hand the impact the rising crime rate has had on the community.
"I think there is more organized crime out there, gangs and whatever. Batteries seem to be a big deal, they steal a lot of batteries. Right next to me, within two miles, there was a side by side stolen, skid steer. Once again, the keys were probably left in and they just drive in, load it up and they go. They are there and gone in 10 or 15 minutes and they're obviously watching," said Schneider.
While the municipalities have been trying their best to keep crime under control with CPO programs, the new UCP task force aims to be a new direction with hopes of collaborating with the community to create a safer environment for all.
With the introduction of this task force, the UCP are hoping to address what they call 'certain shortcomings' of the NDP government.
"This task force brings a wealth experience that will help us get to the bottom of the crisis and develop practical, common-sense solutions that will have a positive impact on victims. We all have a right to feel safe In our own homes and there's no question the NDP has let rural Albertans down when it comes to keeping their communities safe. If the NDP won't step up and address this problem, the UCP will," said Kenney.
The UCP caucus will be holding their annual general meeting later this week on Nov. 30 with additional details available later on.