MP Shields weighs in on fall session issues
Posted on December 21, 2017 by Vauxhall Advance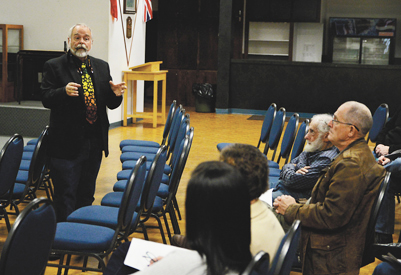 ADVANCE FILE PHOTO.
By Trevor Busch
Vauxhall Advance
With the fall session of Parliament closed on Dec. 13, Bow River MP Martin Shields took time to reflect on some of the issues and legislation debated in the House of Commons.
Sharply rising rates of incarceration for indigenous females in Canada is an issue the federal government is working to get to the bottom of.
"Myself personally, being involved with the status of women has been very interesting, as we're dealing with a study of the percentage of indigenous females in the prison system, which in the last 10 years has just gone up by a tremendous number," said Shields. "We're taking a look at that. That's an interesting study, and locally, there's some outcomes of this that may be of some value."
Recognizing that ranchers and farmers play a pivotal role in protecting the environment and in conservation was the main thrust of a private member's bill put forward by Shields that was passed by the House of Commons on Oct. 19.
The motion, M-108 Contribution of Ranchers and Farmers, was introduced in the House on May 29 and recognizes the ranchers and farmers across Canada who are environmentalists and conservationists on their own private land. The 'core objective' of M-108 is to help spread the word far and wide about the important role food producers play as environmental stewards.
"Having a private member's bill passed, as I did in the fall, being that I was a backbencher in an Opposition party getting unanimous approval of a private member's motion was definitely a humbling experience. That took about a year's work to get that done," said Shields.
Bill C-49, The Transportation Modernization Act, is intended to give grain farmers and shippers important tools that will create a more accountable, fair and efficient rail transportation system, but has stalled in the Senate. Growers are concerned that without these powers in place, there will be increasing delays and costs in getting grain to market.
"The railway piece, it's stalled, it's sitting in the Senate," said Shields. "We're hearing from crop production guys and they are in fear of another winter like 2013-14, they see a lot of stuff not moving. And with that legislation in limbo and the other one expired, they are in great fear that the railroads have no reason to do anything other than whatever they want. So for the producers in our riding, there is significant concern that that legislation is sitting in the Senate and not moving."
Shields tries to keep up to date on developments throughout the riding while in Ottawa and elsewhere.
"You've got a new (town) council, a new M.D. council. I read your papers, and I'm seeing some positive things, and the new councils are interested in their communities, it's great to see. And I'll be in contact with them."
With the United Conservative Party moving to tackle the growing problem of rural crime in Alberta with an MLA task force, Shields outlined his own party's federal strategy to deal with the issue.
"There's an issue out there, and we've heard about it before, and that's rural crime. I know the UCP has a committee going, so does the Alberta Conservative Caucus of MPs. We're also working and meeting with people. Sometime in February I'll be in Taber/Vauxhall for a roundtable meeting looking at the rural crime issue that has been identified by the M.D. It's an issue all over the province, but particularly rural."