Snow brings emphasis to road safety
Posted on December 21, 2017 by Vauxhall Advance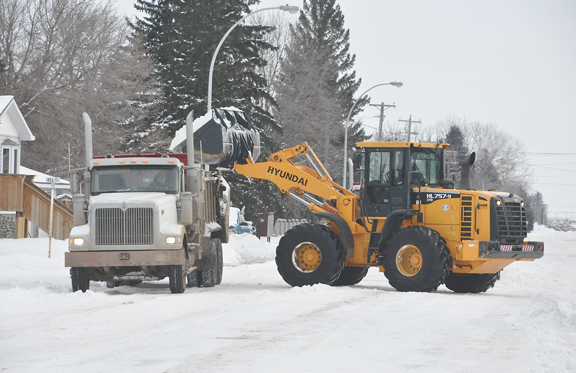 ADVANCE FILE PHOTO.
By Greg Price
Vauxhall Advance
As southern Albertans prepare to enjoy their Christmas holidays, so to must they prepare for a diverse affects of Mother Nature.
Icy and snowy conditions in the minus -20 degrees range are common place in the winter months and thinking ahead can help assure a safer navigation of these upcoming weeks.
"Slow down and leave plenty of time to reach your destination," said Brian Schafer, M.D. of Taber Regional Fire Department chief, adding when those first dumps of snow arrive in a  season, people still have clear-road driving habits on their minds.
If a holiday traveler is to come upon an accident scene, the speed limit is 60 kilometres per hour or less.
"We also have signs that say 30 kilometres per hour and you have to obey our signs. If I were to get hit at 60 kilometres per hour at an accident, it is probably going to kill me. At 30 kilometres an hour, I'm probably going to get hurt," said Schafer. "You have to be paying attention to slow down and make sure everyone in that accident zone is safe."
Schafer added if a driver comes across a vehicle in the ditch, stop and before calling 9-1-1, ensure someone is in the vehicle. When there has been an accident and the vehicle is rolled over on a stormy day, the tow-truck operator does not come that day. Emergency services tapes off the vehicle with yellow flagging tape, which means the vehicle has already been looked at by the fire department or RCMP, so there is no need to call 9-1-1.
"On one of our recent stormy days, we had that happen to us and the vehicle was all taped off and someone called 9-1-1. We had to send fire and EMS out in a blizzard on bad roads for no reason because somebody didn't verify if someone was in that vehicle," said Schafer.
If one is to try and come to the aid of a fellow traveller during adverse weather conditions, Schafer advises you to go up the road a little further and pull off on an approach. Leave your hazard lights on and walk towards the traffic.
"Never turn your back to the traffic. If you can't see them coming at you, there's a chance they can't see (with the blizzard)," said Schafer.
Pay attention to upcoming weather reports and try and have a full tank constantly as you travel during the colder months. Dress accordingly and also have extras stored in your car to keep you warm incase you find yourself stuck, like blankets.
"You are in a snow storm and someone was wearing flip flops. That is not the proper foot attire. On our first call (in the winter) weeks ago , someone was wearing flip flops," said Schafer. "Make sure you are wearing your winter coat or you have in your car just incase you break down."
Winter driving tips
* Make sure that mirrors, all windows, and the top of your vehicle, are free of snow or frost before getting onto the road.
* Don't make any abrupt turns or stops when driving. Doing so will often cause your vehicle to lose control and skid.
* Brake slowly to reduce speed before entering turns.
Once you have rounded the corner you can accelerate again.
* When skidding, you actually need to go against your natural instincts and turn into the skid and accelerate.
Doing so transfers your vehicle's weight from the front to the rear and often helps vehicles to regain control.