Repairs coming to town mascots
Posted on January 4, 2018 by Vauxhall Advance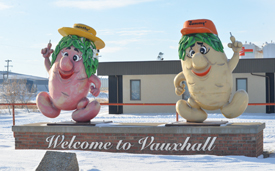 By Cole Parkinson
Vauxhall Advance
cparkinson@tabertimes.com
Correction:
In the story called "Repairs coming to town mascots", it is stated that Zircon Graphics was awarded the project to repaint the two mascots but they merely just provided quotes. Mosaic Industries in Lethbridge was awarded the project as they provided the lower quote.
The first two visitors to greet outsiders into the Town of Vauxhall will be going on a vacation soon, after town council passed a motion to repaint their mascots.
While council had previously discussed the possibility of repainting "Sammy" and "Samantha" a few months ago, they now had quotes on how much it would cost to fully repair the two.Town administration originally brought the project to auto body shops in the area but they were directed to Zircon Graphics in Lethbridge by Bow Island town administration as they had just had their mascot "Pinto Macbean" redone as well. Zircon gave administration a quote of $5,850 to repair them but administration had also inquired into possibly making smaller versions to create some tourism promotions.
"While they're in getting repaired, they build two miniatures which are two feet tall. They look just like them but they are minis and you can put them wherever you want, you can do the tourism thing. I went into their shop and was amazed. It was like walking into a Disneyland lab and you walk around. They're making all of these things and like a little kid you have to check it all out. It's all quality stuff. I had to make myself leave because there was just too much to look at," said Cris Burns, CAO for the Town of Vauxhall.
Burns also added the smaller versions wouldn't be for public display but more for the town to show off for promotional material and events. Mosaic had stated they would prefer to get the mascots in January and it would take around a month to fully complete them.
While staff seemed mostly positive towards having the two original mascots sent in for repairs, not everyone believe it was worth the $5,850 price tag.
"Whether Sammy and Samantha are brightly paints or dull painted, I don't think there will be some family up in Peace River saying 'where are we going to go next summer? Wow, Vauxhall has freshly painted potato people, let's check it out!' I'll bet that nobody has ever taken a vacation to Vauxhall to see them," said Richard Phillips, deputy mayor for the Town of Vauxhall. "I don't dispute it takes a lot of work to repaint them but as I drive past them and look at them, I haven't been typically concerned that they are fading a little."
No one disputed the point made about vacationers travelling to Vauxhall to visit Sammy and Samantha, but some councillors where adamant that a number of people passing through do indeed stop.
"A lot of people stop there to take pictures," said Coun. Linda English.
Other possibilities discussed on the matter were working with the businesses located near the statues to create more of a tourist stop location, making it more attractive for visitors to stop and visit the Vauxhall sign as well as Sammy and Samantha.
Coun. English was still adamant in her assessment on whether they needed to be repaired as she echoed the same thoughts as when they discussed the topic a few months ago.
"I have to go with the painting, they need to be painted," said English.
While most of the councillors were in favour of repairing the two big mascots, the question of building the two smaller ones for promotional material was still up in the air.The biggest reason was the substantial cost involved with making them.
"I'm for repairing these ones but I'm not necessarily for the little guys, they are kind of expensive," said Coun. Kim Cawley. "They are half of what it's going to cost to repair the big ones."
Even though most of the councillors were on board with having the town's mascots sent in for repair, Coun. Phillips was still not sold on the money it would cost to have them repainted.
"I'm not terribly opposed, I just think $5,800 is a lot of money to give them a fresh coat of paint," said Deputy Mayor Phillips.
The motion made was to repaint the two originals while council was in agreement to not to move forward on the smaller versions as the cost was too much.
The motion was passed with a 4-1 vote, Coun. Phillips was the lone opposed vote.