All the world's a stage at Vauxhall High School
Posted on January 25, 2018 by Vauxhall Advance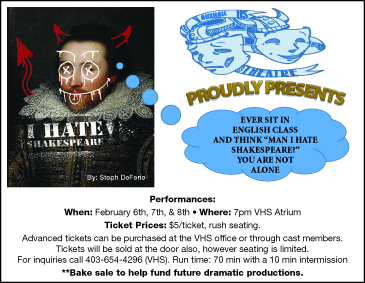 By Greg Price
Vauxhall Advance
gprice@tabertimes.com
The dramatic arts have made their way back to Vauxhall High School and with it comes the production of Steph DeFerie's 'I Hate Shakespeare.'
"It's a bit of a multi-story. I'm a fairly new teacher out at the school and my background is actually in theatre. Mr. Ojala (principal) is a big proponent of getting multi-disciplined teachers into the school and when I came in, there wasn't a current opening for drama with tight schedule sand small schools," said teacher Keith Miller.
"But I kept at him and this year he came up to me asking if I was willing to do a drama class for an option. And I always said if I ever did an option drama class I'd do a production."
Knowing that kids are busy nowadays be it through sports, 4-H, piano lessons, chores or whatever, Miller wanted to pick a play that assured a varying degree of participation incase time constraints got tough as the drama program makes its initial baby steps.
"The first step I took was to find a play that could be done no matter what. This is a play that can either have five people, or a play that can have 47 people," said Miller.
"It also involved talking up a lot of students that I've known for a couple of years now."
There will be 17 students performing in the play from Grade 7 right up to Grade 12. Other students will be helping in the background, make up, lights and sound.
Being an english teacher at Vauxhall High School, Shakespeare is often taught. Numerous times the groans are heard from students of why it is being taught as it with its lack of perceived relevancy of today.
"But the play shows you little snippets of Shakespeare of just how influential he is in our lives. Each theme shows you how Shakespeare interest has inspired the stories you know of. Lion King…wow, that is the story of Hamlet. You look at classics like Westside Story, and oh that's Romeo and Juliet," said Miller. "It's also knowing the language which many people comment on, is actually not that scary. We use phrases that Shakespeare has written. But even if we take away his language and use his stories, it shows how relatable it is. There are moments where we use the original text and then there are moments it is modernized. We have a traditional Juliet versus a modern Juliet."
Miller describes 'I Hate Shakespeare' as a comedy.
"Even Shakespeare's tragedies are presented in a humorous way. It is designed for a bit of a younger audience," said Miller who has directed other plays in his time in Lethbridge.
Miller directed another Shakespearean play for Gilbert Paterson School during his professional development semesters of teaching. Miller is also a fight/action choreographer who helps with stunts, sword fighting etc.
While the actors in the production will be from the drama program, all sorts of helping hands from the school are helping make sure 'I Hate Shakespeare' is a hit.
"Our shop program is building set pieces and flats for us. Our art program is helping with paintings. Our home ec is willing to step in if we need some alterations on our costumes," said Miller. "It's making sure the drama production is not just a singular thing, but a school-wide thing."
That also includes the Vauxhall Academy of Baseball Jets becoming thespians as well.
"I wanted them to get involved as well. They can't perform the nights of the play because their schedules are so crazy. But because of our play, we are actually able to film a scene as if it is a commercial and I had four baseball students volunteer," said Miller.
"We spent an afternoon, we recorded an entire scene that they had to memorize their lines and act it out," said Miller. "They are involved in the play and I was enthralled because you often don't get that true mix of the sports kids and the theatrical. But, these kids were willing and it is one of my favourite scenes in the play actually. It gives kids connections together with each other that they might not have had earlier. It creates family."
The first steps of building towards the production for Miller have been building excitement and making sure the actors feel comfortable.
"You want to garner that excitement so they want to do it and they want to present work. They have to be comfortable with the knowledge that this hasn't been done for awhile so they are going to be held to a certain level. They are the jumping point, they are the kickstarters so they have to be comfortable with a bit of that pressure," said Miller.
"There is also seeing that secondary atmosphere within the school and garnering those relationships. A cast is a family and it is neat seeing that closeness. They don't always hang out, but they come together for this singular goal."
'I Hate Shakespeare' runs Feb. 6-8 at 7 p.m. each day at the Vauxhall High School Atrium. Tickets are $5 with rush seating. Advanced tickets can be purchased at the high school office or from a cast member. Tickets will be sold at the door also, however seating is limited. Run time for the play is 70 minutes with a 10-minute intermission. A bake sale will also be offered at the play to help fund future dramatic productions.
"It's great, administration has been huge in seeing what a budget of a full production is like and not denying anything, because they themselves want to bring it back and offer students another option if they want it. Teachers are getting tickets to support their own students," said Miller.
"For me, the main thing is to give students a place. Some kids are sporty and we need that for them, some kids are big into academics and we have that for them. Some students want to build something and we have that for them.Some kids want to perform, if there is no place for them, it's a spark that can't reach it's full potential."
For inquiries about the play, you can call (403) 654-2145.