TDCALA looking to fill volunteer positions
Posted on February 1, 2018 by Vauxhall Advance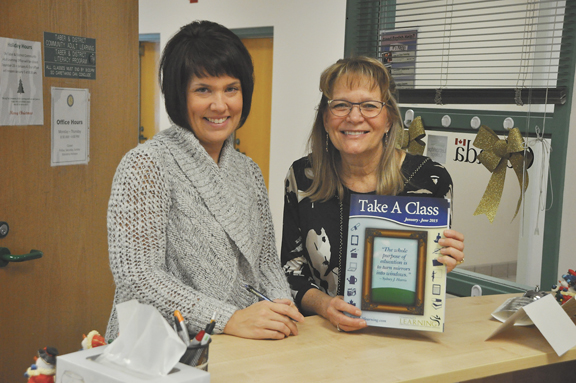 ADVANCE FILE PHOTO
By Greg Price
Vauxhall Advance
gprice@tabertimes.com
Taber and District Community Adult Learning Association is hoping there are people out there that will help fill the need for volunteer English tutors in its ESL programs.
However many hours one is willing to give a week, the organization is extremely grateful for.
"We are really open to what they want to volunteer. If you got an hour a week, two hours a week, that's fine. Usually I would say it's two to three hours a week," said Jane Brenner, TDCALA executive director. "That is what we would like to see them tutor."
Tutors will be matched with clients of where their comfort level and strengths are in filling the needs of a TDCALA client, as TDCALA equips both the teacher and the student with the tools to succeed.
"The majority of our students are English as a Second Language learners and they really need help with reading and writing. They are adults and they can't read the English language," said Brenner. "It can just be teaching the basics of reading like days of the week and sentence construction. This is a noun, this is preposition, this is a verb… those are all things that are uncommon to them in the English language."
Tutors will be aided by TDCALA support staff who develop a lot of the lesson material.
"As long as the tutor is literate themselves, they can give so much to their community," said Brenner. "They don't have to worry about a lot of lesson planning. There will be some of that involved, but the majority is they will have everything prepared for them. They are the bridge and the consistency of turning up. They can tell us 'OK, I'm willing to do this for six weeks.' That's great, we have you for six weeks. But, I can guarantee you that after six weeks, they'll still want to be doing it, because of how enjoyable it is and how they really get to love these people who they are working with."
Because it is adults seeking further education in bettering their lives, the student/teacher bond can be a powerful one.
"They are so appreciative and they turn up and are ready to learn. It's not like a teenager in high school, who may not really want to be there," said Brenner. "They want to be there, they want to learn."
One of the volunteers that Brenner refers to in loving the experience is Chris Archer who has volunteered at the ESL centre for two years.
"Getting out and meeting new people has been fantastic," said Archer, who views her tutoring as a way of paying it forward with the hand up her own family was given when they first arrived to the area. "My family came here from Germany (60 years ago) and there were a lot of people who helped get them established. I feel like I need to help people just like those who helped my family and you get a really good feeling from it."
The Taber Irrigation Impact Museum submitted an article back in June to the Taber Times on Ruby Krenzke, having arrived in Canada back in 1910.
Having never married, she nevertheless had a huge impact on the southern Alberta region.
The following is an excerpt from "The Life Story of Ruby Krenzke."
At the age of 25, Ruby met some missionaries from the "Canadian Sunday School Mission.
"It was then she fully embraced religion during a meeting held at her school, and soon she began teaching summer Bible School. In 1945 she was approached and asked to go to Taber to do "gospel work" there and hold "Evangelistic Meetings."
After getting settled in Taber she started "gathering children from the street for classes," soon "having her little home filled with kids, not only for classes but for all day long." Her home became known as the "Kid's Church."
Before long, a "little church with two rooms in the back for her to live in" was built by members of the community.
She started offering classes to some of the Japanese families in Taber, even some of the Japanese Buddhist children joined her class.
After her enrollment reached 100, she knew a bigger space was needed. The Taber Gospel Hall came to her rescue and allowed her to teach there.
Many of these families returned to the coast after WWII and she once again floundered.
The southside of Taber eventually became a home to her and her calling of teaching the children.
She no longer questioned God's will and gave herself whole hearted to the children of Taber.
Her southside school grew to a regular enrollment of 85 or more, she held classes on a daily basis, teaching countless Taber children the Gospel.
These classes were often known as her "Happy Hour."
Never married, Ruby had no children but she did indeed have a family that loved her and she loved.
Many of these Taber "children" kept in touch with her for the rest of her years. She was one of the people who helped to make Taber the caring place it is today.
"That was the lady who helped my parents immensely.
That's all I ever heard about when I grew up was this Ruby Krenzke who really helped them with the language and everything that newcomers need," said Archer. "Her story was inspiring to me to do something like this in volunteering to be a tutor."
Working at Taber Mennonite School, Archer gets her tutoring volunteering in after school hours.
"It's that smile that you see on someone's face when they can finally understand something. It makes them feel good, it makes you feel good," said Archer. "Right now I'm working with a young girl who is 14 and has no English. I can remember going to school and not knowing the language. I think people have to walk in someone else's shoes. Imagine us going to another country and no one speaking your language and you just want to know something basic like where to buy food."
Archer prides herself on that exact moment the light bulb goes on and a smile crosses the face of a student she helps tutor.
"That is what my mom and dad had to do and they came with kids here and they didn't know the language. I get a lot of gratitude out of it helping someone else," said Archer. "It's a win-win situation for who you are helping, but for your situation as well. You learn about the different cultures first hand. Once they start talking to you, I've learned a lot about different cultures which is a good thing in life."
If you would like to volunteer to tutor English classes for Taber or Vauxhall, you can call 403-223-1169 to inquire.