Public library asking for increased funding
Posted on February 22, 2018 by Vauxhall Advance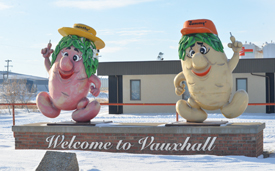 By Greg Price
Vauxhall Advance
gprice@tabertimes.com
In the Feb. 22 story entitled 'Public library asking for increased funding,' there were quotes that were mis-attributed from someone who spoke from the gallery during the Vauxhall Public Library presentation. The very last quote in the article was made by Lucy Norris, Vauxhall Public Library board member, not Lori Van Hal, Vauxhall Public Library manager.
The Advance apologizes for the error.
Vauxhall Public Library representatives tested the waters at Vauxhall council's meeting on Tuesday to see if they could get increased funding.
The Vauxhall library board and Friends of the Vauxhall Public Library canvassed funds for the new library and also to have some funds put aside for operating costs.
"We also have the casino money, but we can only spend that on hard assets, not operation costs for the library," said Joerg Klempnauer, treasurer for the Vauxhall library board.
"We have come to the point where our funds are very dwindling. Operating a public place is not cheap anymore and we are not spending money lightly in the library. Fifty-five per cent is labour costs which goes up now with the provincial government doing the minimum wage increase and we are having problems finding funds."
Klempnauer referenced approximately $70,000 of revenue being generated by the library in 2017, with expenses totalling $68,000. Friends of the Vauxhall Public Library were able to raise $15,000 last year for the operation of the library, which included the Bank of Nova Scotia chipping in $5,000 of that amount.
"That is a lot of money to either lose or gain," said Klempnauer. "We feel that there is not sufficient funds from the library friends that we will have the $15,000 (this year). It brings us to the problem that the board is always in financial stress, and it creates the problem that people will not want to come (and volunteer) for the board. I have run a farm for many years where chasing money was a common task, but if you do it for a volunteer position, it becomes frustrating. It comes to the position of do the citizens of the town, and surrounding people want the library or not?"
Klempnauer stressed that the statistics show the Vauxhall Library does fill a need for its town residents and surrounding communities. He quoted statistics of nearly 14,000 books rented/borrowed out at the library with close to 70,000 people visits to the library. Deputy Mayor Richard Phillips briefly questioned the numbers, finding them high when breaking down daily visits over the span of a year.
"That is a lot for a town of 1,100/1,200 people," said Klempnauer. "We are having a big stream of people coming to the library. The numbers are recorded by our manager and goes into the statistic that we supply to the government. It's an official paper that we supply to the provincial government of what the library is doing."
The library is equipped with computers that residents may not be able to afford to work on and do things like resumes, apply for passports, etc., noted Klempnauer.
"The library goes far past just paper books that we are renting out. We have many other things," said Klempnauer.
"It has to be decided by council members of course and council represents the citizens of the town if this is something worthwhile to spend money on or not."
Klempnauer cited provincial averages of municipal funding for libraries. Vauxhall funds its library at $5 per capita with the provincial average of communities of similar size in the province is $23 per capita excluding Vauxhall.
"There is a big gap there and we have to try have to convince council that it is a worthwhile to fund the library further than what they do," said Klempnauer. "We get money directly from the province which is $16,500 every year, and we were told by the Chinook Arch Library manager, that money is pretty much carved in stone unless Mrs. Notley does some really nasty stuff with us."
Casinos are always an option for non-profit groups to pursue to increase their funding with one scheduled in the summer for the library organization. But, there are very strict rules of how that money can be spent.
"It's for capital expenditures that we really don't need. It's a silly thing. We can get $30,000-$40,000 from a casino, but we have no real issue to spend it on. We have everything for hardware and brick and mortar that we need," said Klempnauer.
"It's frustrating to see the monies in the bank and it needs to be spent within three years."
Mayor Margaret Plumtree appreciated members of the Taber Public Library board coming to do its presentation and promised council would crunch the numbers and have and answer for the board fairly soon.
"We are talking about potentially a lot of money. It is a good time to discuss. We are looking at budget, we are looking at taxes and all that sort of stuff. It is a good time to be bringing this up," said Plumtree.
"But, It is all part of that process, I appreciate you giving us the time to consider it."
Vauxhall Public Library manager Lori Van Hal thanked council for the opportunity for the board to bring awareness to the library's funding plight, and pushing for the town to increase its funding towards the institution.
"When the town gives $5 per capita and the average in the province is $23, we really need your help. We really need the money from the town. I've heard before that there just is no money," said Van Hal. "When you look at all the things the library does for its community, it is so important that you put it into your budget. When we look at say what is spent on the pool which is only open three months of the year, compared to what the library receives, it very much is an imbalance. It is definitely something to think about."