Shields hosting open house
Posted on February 22, 2018 by Vauxhall Advance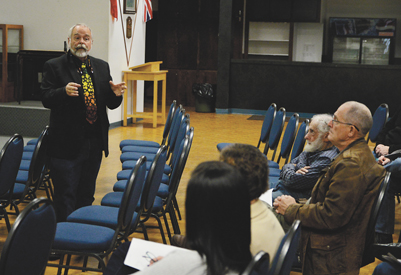 ADVANCE FILE PHOTO
By Trevor Busch
Vauxhall Advance
tbusch@tabertimes.com
With rural crime concerns gaining profile throughout the province in recent months, Bow River MP Martin Shields is hosting an open round table discussion for the public tomorrow.
The round table discussion will focus on issues such as crime prevention, investigation, prosecution and punishment, and is being hosted at the Taber Legion Hall from 3 – 4:30 p.m.
"It's interesting, because there's been MPs, MLAs, holding these in lots of rural areas the last couple of months around the province," said Shields. "There's been some communities organizing their own, and talking about how they can deal with some of these things. So it's not just one rural area that there's some of these issues in, there seems to be some challenges in a number. I know in the M.D. of Taber area there's been some discussion, and I think the M.D. of Taber has made some changes with bylaws, and officers, and how they can deal with things."
Shields outlined some of the key issues that have been influencing crime trends in rural areas throughout the province.
"So I think we're going to hear — from what I know from the other ones, and what I know of rural policing — it's a time factor, and a distance factor. Rural people are feeling very apprehensive about being safe and secure on their property. If something's happening, it takes a considerable amount of time for a response because of distances. And the guys that want to commit crimes seem to have become more aware that if we go into rural areas, it takes a while for the police to get there. It's just a reality."
Alberta's criminal element are aware of the pressures facing law enforcement in rural areas, and this has precipitated an uptick in the level of criminal activity.
"If you live in Taber and you make a call, and the police station is three blocks away, the chances of a policeman showing up fairly quickly, it's going to happen," said Shields. "But if you happen to live 45 minutes away from where the police are located, it's going to take time. And I think the criminal element have figured that one out, and that's why they're in rural Alberta — it pays. The crooks have figured out that we can steal vehicles, we can steal property — much of it is related to drugs, and getting money. The issue so far is the bad guys have figured out we've got some people we can steal stuff from."
Shields hopes to see some possible outcomes from the discussion, perhaps facilitating the establishment of a rural crime watch or other initiatives. The Bow River MP will also be sharing the discussion with Cardston-Taber-Warner MLA Grant Hunter and local Little Bow MLA Dave Schneider.
"We know they're working on report as well for the UCP. We believe in doing these reports if we can work with the provincial side, because the funding doesn't come from us as feds. It's a two piece step," said Shields. "If you're in Taber, Taber pays for its municipal police force — the citizens pay for it. If you move to a community under 5,000 and rural, the funding is paid for by the province, so the province says how many police in different areas. The RCMP have identified a shortage of personnel as more people have moved into some rural areas, they don't have the manpower to cover some of this. Municipally, for example in the City of Brooks when I was mayor we moved from 15 to 23 officers, but only grew by a 1,000. We paid 70 per cent of that. So municipalities that are urban can make some of those choices, but the rest of them — under 5,000, and that's hamlets and rural municipalities — the province makes the decision on the number of manpower of RCMP. That's why the provincial piece is important, and the municipal discussion as well with them. So we'll do a report, the UCP will do a report."
Shields hosted an identical meeting yesterday in Keoma, a hamlet northwest of Calgary.