Kindermusik classes offered in Vauxhall help stimulate young brains
Posted on March 1, 2018 by Vauxhall Advance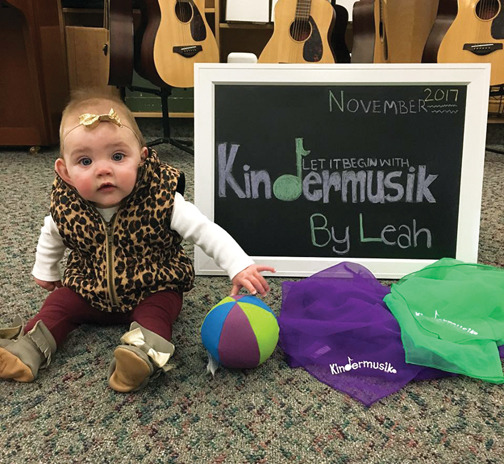 FAMILY TIME: The bond between parent and child grows stronger through a new music program offered in the Vauxhall area. PHOTO SUBMITTED
By Demi Knight
Alta Newspaper Group
Helping to develop the neuropathways of newborns to children aged seven, a native of the Vauxhall-Taber region has started a business by combining her love of music and her will to help others.
Leah Meier, an avid musician whom has spent her whole life enjoying a passion for music, through playing, directing and singing, recently started her own business to bring a special kind of music to children's ears.
The goal is to help develop neurological functions from a younger age.
"There has never been a time when music hasn't been a part of my life," said Meier, owner and operator, Kindermusik by Leah. "So, I started the business Kindermusik by Leah because through this I was able to combine my love of music with my love for children and take that leap of faith, where I not only invested in myself, but now with my classes, I'm able to have an impact on others lives in such a profound way and that's amazing."
Meier who spent almost ten years as a singer in a band and another nine working as an emergency dispatch responder, rekindled her passion for music this January when she officially launched her business, Kindermusik by Leah, which offers classes in both Taber and Vauxhall.
Led by her devotion to bring harmony back into her life, Meier quit her steady job last year.
She applied for the online training and teaching program that is Kindermusik before finally opening classes of her own this January, and she couldn't be happier about her decision.
"I wasn't using my talents for music in the way I wanted to, so when I started to research music and children what music does to the brain — which I'm very interested in — I found Kindermusik and it checked every box for me," said Meier. "It has given me the opportunity to pursue a career in something I whole-heartedly believe in."
Kindermusik which is the art of musical learning, has been practiced for more than 35 years around the world and works by offering classes that are playful and nurturing in nature.
This allows children to experience a variety of different styles, genres and cultures that encourage movement, rhythm and vocal activities to stimulate the brain throughout the entirety of the session.
Offered in both Lethbridge and Calgary, Meier brought the musical phenomenon to rural municipalities within southwest Alberta at the start of 2018.
Since opening for business in January, she has already seen 30 children registered within her six classes that are currently running, a sign the program is gaining interest.
However, Meier only hopes for more growth in the future with the classes unique approach to early brain stimulating exercises.
Meier also says that the bonding experience parents get with their young children during the classes is just as powerful as the class itself and will hopefully lend to more enrollment in the future.
"These sensory-rich environments with music and fun really strengthen children's neuropathways, but the really special part that I've had a lot of parent feedback on so far is the bonding that we see in the earlier ages," says Meier. "The one on one time that is available through the classes as well as the ability to be able to share this experience with family and children is incredible and even more incredible to be able to contribute to."
Meier's music classes also provide at-home materials to all families upon enrollment such as the ability to download music used in the sessions as well as read articles and advice on how strengthening neuropathways and stimulating young brains can benefit children in their development.
More information on the Kindermusik by Leah classes can be found online through her website at leah.kindermusik.com.