Politicians weigh in on state of rural crime in region
Posted on March 8, 2018 by Vauxhall Advance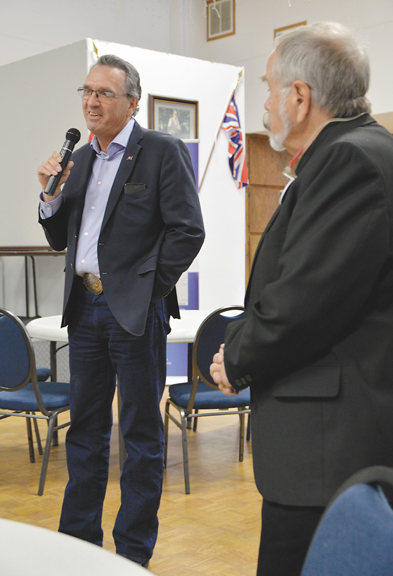 ADVANCE FILE PHOTO
By Trevor Busch
Vauxhall Advance
tbusch@tabertimes.com
As rural crime issues develop a heightened profile across the province, some local politicians have been busy talking to constituents about the problems facing their communities, as well as offering some potential solutions.
On Feb. 23, Bow River MP Martin Shields hosted a roundtable discussion at the Taber Legion Hall which focused on crime prevention, investigation, prosecution and punishment. Official attendees included Cardston-Taber-Warner MLA Grant Hunter and Little Bow MLA Dave Schneider.
Shields opened the discussion with a personal account about his own experience with crime through the political sphere as a former municipal politician.
"Sometimes we are targeted as politicians, and that's one of the challenges I had in protecting myself and our city council (Brooks), because we had an individual that took it upon himself to be a very aggressive, very skilled stalker and vandalizer, to the point that I lost my insurance, because after 10 times being keyed very badly, he knew how to do it and he knew my vehicles. A few days ago is the first time I've parked in the downtown in Brooks in years, because he knew my vehicles. The RCMP put cameras in my yard, they did everything they could to support and protect our council, we had court orders against this gentleman. I know recently at a community event for the fire department he showed up on the property, and the RCMP quickly arrested him, and that cost him some money. But it's one of those things in public life we deal with."
During an opening address earlier in the meeting, Little Bow MLA Dave Schneider had recounted his own experience with rural crime in his farming operations south of Vulcan.
"I know why we're all here today, I've had crime on my own farm. Three or four years ago, I moved some machinery from one location to another and left the truck sitting in the field with keys in it — mostly my fault. I came back the next day, and of course it was gone. I got the truck back, reported it to the police, and certainly got it back. About two months later, somebody walked into our yard off the road and took the license plate off a truck. Again I didn't catch the guy, but I think I was there shortly after it happened. Of course I reported that and went and got a new license plate for the truck."
Schneider emphasized an education component as being key in helping tackle some of the issues being faced in rural Alberta.
"I understand that there's crime going on certainly worse than that. I've been very lucky, I would suggest, but I understand the frustration that's going on in rural Alberta, and I feel for all of you. I long for the days when I didn't have to lock the doors of the house, or my quonset, or my shop, or my vehicles, those days are gone and I've understood that, and now I don't leave the yard without locking everything and taking the keys out of the vehicles. It starts to be a pain in the neck, you think it's a pain in the neck, but the more you hear and the more you see of what rural crime is doing, it's something that we all have to do. And it's about education, it's about watching out for each other. Those are the kinds of things that are important — education — and understanding that the days of not having to lock all your stuff up are certainly gone, and I think gone forever."
Other representatives that attended the discussion included Taber Mayor Andrew Prokop, M.D. of Taber Reeve Brian Brewin, County of Newell Reeve Molly Douglass, Bassano Mayor Jackie Peterson, Vauxhall Mayor Margaret Plumtree, Rosemary Mayor Bill Marshall, Duchess Mayor Tony Steidel, County of 40 Mile Reeve Steven Wikkerink, various members of the RCMP, Taber Police Service Chief Graham Abela, and many other elected representatives and citizens.
"I guess what I'd like to hear is what others are doing, what works for them, whether it's a crime watch — what other communities are doing, what has worked, what hasn't worked," said M.D. of Taber Reeve Brian Brewin. "At the end of the day that's what I'd like to take home. No use reinventing the wheel if others have something that works."
People can often feel like they have been doubly victimized when there is no resolution to a criminal complaint.
"One of the things that we find with victim's services is that victims feel assaulted twice — they have the theft, or vandalism — and there's nothing that can be done," said M.D. of Taber Coun. Tamara Miyanaga, who was also representing a local victim services organization. "They're out that cost, they're out the money, and if they don't catch the person… so it's really important that we evaluate what happens to the victims when these rural crimes are happening."
Responding to a question from the floor, acting Taber/Vauxhall RCMP detachment commander Cpl. Gord Yettman related that the local detachment was currently at full complement, and usually has two officers working at night, and two during the day with a non-commissioned officer.
Another question directed at the RCMP requested clarity as to how far an owner can go in defense of themselves or their property.
"So bottom line in protecting your property, we do not recommend doing anything that's going to cause harm to yourself," said Chief Supt. Bernadine Chapman, district officer for the Southern Alberta District. "If someone is going to break into your house, steal your vehicle, or cause damage, you can get yourself into a situation where an individual could cause harm against yourself, or take action that could possibly cause you to be under investigation."
Chapman pointed out that the response has to fit the crime, or a property owner may find themselves on the wrong side of the law.
"We caution people, because we're trained to answer calls and we have the equipment to do so, and we have the back up to do so. Because the individuals that we're dealing with today, they're not stopping for police, they're ramming police cars, so they're not afraid, and they have no vested interest in the people that they're harming, or that they're stealing from. And they're probably not in the right frame of mind, so we really caution individuals when it comes to property. Property is property, and we will be there as soon as we can, but nothing is worth your life, nothing is worth you getting into a situation where you could be criminally investigated because you took matters into a course of action that perhaps didn't meet the crime. If they're starting to harm you, you should try to fight back, but if they're not harming you physically — it's a call that you have to make. Absolutely protect yourself."
Chapman also suggested that rural property owners build fences or keep existing ones in good repair, install gates, keep dogs, and install more yard lights or video surveillance systems — basically anything that could help deter criminal activity. She also detailed the recent creation of the RCMP's Crime Reduction Teams in four districts throughout Alberta which focus on habitual criminals and problem individuals, which have seen some recent successes.
"Southern Alberta has their own dedicated Crime Reduction Team. It's a team of four, one sergeant and four constables. It's new, and that's going to have an impact."
Vauxhall Mayor Margaret Plumtree expressed a need for more police presence in her community in future.
"I'm from the Town of Vauxhall, and I definitely feel that there is not enough police presence. Our region is huge, we share it with the M.D., and if there's two emergency calls and there's only one officer available, you can only answer one call, or if you're on one and you get another that comes in, you can't possibly be in two places at once, or just the traveling is far. I know there's rural crime watch, and we're trying to put that into our municipality. We don't want citizens obviously taking things into their own hands, we don't want like Trump is talking about, getting teachers guns."
MLA Grant Hunter sought information on how many of the crimes being witnessed in rural Alberta could be linked to drugs or addictions issues.
"Primarily most of the individuals we're dealing with would be people who have addictions, that's without a doubt," said Chapman, who went on to talk about a need for community mobilization and enhanced resources to tackle addictions problems.
Tiana Straga, volunteer coordinator from the M.D. of Taber's new Range Patrol program, encouraged people to get involved, volunteer, and be more observant about the activities they witness in their areas and communities.
"One thing I learned is that COP (Citizens on Patrol) is a great program, and if you can get enough volunteers that's wonderful, but in small communities sometimes your volunteer base can dwindle over a while," said Bassano Mayor Jackie Peterson. "What I did take away from it is that you can be almost COP any time of day, by not having tunnel vision, to train yourself to look around more and be more aware. Just take that outlook on a daily basis and be more aware, and recording the things that you see."
MLA Hunter argued that many problems with crime can often be traced back to broken or fatherless families, and he pushed for a need to get tough on crime at the federal level.
"I keep on hearing about programs, we need to do this, we need to do that. I agree with you 100 per cent. These bleeding heart liberals that we have here, they're not doing us any service whatsoever. What we need to do is we need to get tough on crime, because there has to be a deterrent equal to what you've done. There's not enough police — these guys are doing a great job, I take my hat off to what they're trying to do — but they're trying to fix a problem, the dam is breaking and they've got a Band-Aid to work with. It's not going to work. What's going to work is if we have the punishment work with the crime, and we are not there."
Citing the Jordan principle as an example that the criminal justice system needs a significant overhaul, Hunter suggested some problems with crime can be ameliorated through improving the economy.
"This is a federal issue, this is the judges, this is the lawyers. We have bad legislation — we've got the Jordan principle — this is a situation where some people who had, I think, genuinely good intentions, we want to make sure that everyone gets their day in court. So you have to have it in two years. Courts are already backed up, and so now what they're having to do is triage who gets to go into court. So you have people that are rapists — who are charged with rape — they get released. This is bad legislation. Again, these bleeding heart liberals — I'm not saying that all liberals are bad, but I think we have to address these issues, because this is a torrent that is waiting to completely break out, and Alberta's been really blessed because we've had a good economy. But we've been in a bad economy for the last three years, and there is direct correlation between a bad economy and increased crime rates, especially petty theft. I'm hoping we can fix that by getting people back to work."