Sugar beet industry always evolving
Posted on March 15, 2018 by Vauxhall Advance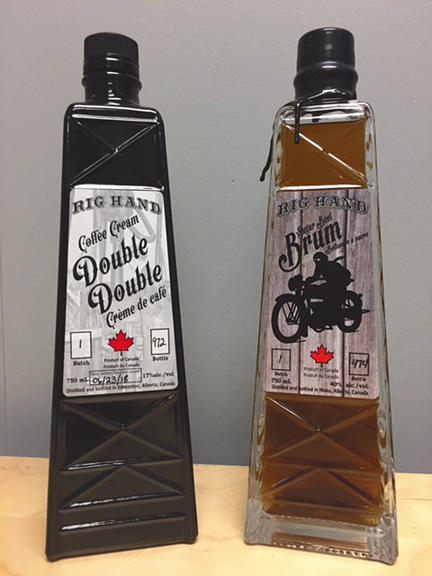 MARKETING: Alberta Sugar Beet Growers have been pushing awareness/promotion of products that use Alberta sugar like Rig Hand Distillery's Brum featured above. PHOTO SUBMITTED
By Trevor Busch
Vauxhall Advance
tbusch@tabertimes.com
While the Canadian sugar industry is still facing many challenges in 2018, an increased focus on innovation and education are helping the sector overcome issues it has faced in the past, while looking with optimism toward the future.
Heading a delegation to Taber town council last month, Alberta Sugar Beet Growers' president Arnie Bergen-Henengouwen and executive director Melody Garner-Skiba are focused on creating a sugar beet industry that is progressive and sustainable for future generations.
"We are producer driven, so we really take to heart what those 200 farm families give to us for information, and what they need from us, so they can continue to grow the sweetest crop in Alberta," said Garner-Skiba. "Currently we have a contract that is good until 2019, so we're covered for this year, and it expires next year. But we are in contract negotiations, with the key deliverable of wanting to have a long-term, sustainable industry here in southern Alberta."
"ASBG represents over 200 farming families who earn their living, typically, by raising hundreds of thousands of tonnes of sugar beets in a year. These are the farmers that come to the Town of Taber and spend their money, whether it's buying equipment, parts, groceries or taking their families out for a bite to eat in the downtown."
The ASBG administers regulation while providing leadership to advance the sugar beet industry through agreements, relationships, research, and advocacy on behalf of sugar beet growers in Alberta.
"We also provide education. Through media stakeholders, we've really in the past year tried to focus on promoting products that are using Alberta sugar. So whether that's Rig Hand Distillery's 'Brum' — which they make using sugar beet molasses — Roger's sugar itself, the No. 22 on the product, or different pops and stuff like that, our focus is really on trying to encourage people to support the local sugar beet industry, and buy beet sugar versus cane sugar," said Garner-Skiba.
For the 2017 growing season, 27,005 acres of sugar beets were planted based on 26,906 contracted acres. Some 350 acres were replanted, and 26,940 acres were harvested, with 876,929 tonnes delivered. Extractable sugar content was at 17.538, with an average yield of 32.55 tonne.
"We had a record-breaking crop with an average yield of just over 32.5 tonne, which is absolutely phenomenal, with a good sugar quality of just over 17.5 per cent," continued Garner-Skiba. "That meant our farmers delivered just over 870,000 tonnes of beets, we're expecting to see over 125,000 tonnes of sugar brought out of those beets. So a fantastic crop. It was a challenging crop to get out with this early snowfall for sure — there was a lot of mud in the fields, a lot of tractors pulled out — but it resulted in a great crop being brought to the processor."
"Something that we always need to be cognizant of, and I'm sure as you guys probably drive by the piles, the longer we start to keep processing in January, February, the riskier it gets for us to be able to actually extract the sugar out of the crop."
Strategic priorities for 2017-2020 include a focus on creating a sugar beet industry that is progressive and sustainable for future generations, ensuring profitability and promoting expansion, forging a long-term agreement with Lantic Sugar Inc. that includes price discovery, enhancing the responsibility and stability of the sugar beet industry, and continuing the ASBG's role as an accountable, professional and efficient organization.
"Some of the other areas that we've focused on this year to help bring some stability to the industry is a government relations plan. So we've been meeting, much like this, with all of our municipalities, with all levels of government to make sure that issues like the carbon tax, farm safety, labeling, all issues like this that are headwinds for our industry, we are making sure everybody is aware of," said Garner-Skiba.
Industry challenges include the impacts of the province's carbon tax, environmental upgrades for the processing facility, looming international trade wars potentially in the offing, competition from the global sugar cane industry (No. 11 Sugar), and fostering enhanced public trust in the product itself.
"One of the big things we've got federally right now of course is NAFTA, and that extremely affects us, because we've got a quota, a TRQ (tariff-rate quota) into the States of just over 10,000 tonnes that has to be beet sugar."
"We don't want that to be threatened whatsoever, because that does come directly from this plant and would cause some problems if we were to see that quota perhaps go by the wayside. A new mechanism was implemented this year with the quota transfer. Historically, quota was only able to be transferred from a grower to their relative. We've just opened that up so that growers, new growers, other growers can start to expand and transfer quota, and we're seeing applications already coming in for that," said Garner-Skiba.
The ASBG is in new contract negotiations with their processor, Lantic Sugar Inc., and Garner-Skiba wanted to assure council that the organization isn't anticipating an acrimonious negotiation process.
"We know that the last round of negotiations was intense, to say least. We really want, especially the town, to understand that we're working with our processor, we're at the table dealing with them right now, we are trying to work toward an agreement, and negotiations are happening. I know last time there was confer about where the negotiations were at, and the town felt very strongly that they wanted to see a deal done. ASBG and Lantic would both like to see a deal done, and conversations. I just want to put the town's mind at ease that we are not looking for a repeat of what happened last year. We want to make strides to ensure that doesn't happen, and that's why one of our strategic priorities is a long-term pricing mechanism with Lantic, so that you never have to pick up the phone and urge us to take a deal because it threatens the town's economic viability. We understand that, and our farmers who spend money in this town also understand that. So both sides are wanting to come to an agreement."
The impact of the province's carbon levy is taking its toll on the processor — an estimated annual cost of between $2.5 to $3 million, according to Garner-Skiba — as well as local sugar beet farmers.
"I'm sure you've heard from our processor that it has had a huge impact on that factory, and will continue. There are huge environmental upgrades that need to happen at that factory. And it's not just the factory that's affected by the carbon levy, it's also our growers. We're looking at close to $200,000 in direct impact to farmers, let alone what the processor is facing. Every farmer is a price taker. We can't pass on that carbon tax to our processor, and our processor feels they cannot pass on that carbon tax to the end consumer. What that means is there is downward pressure on our farmers with the carbon tax. So this is something that the town needs to be aware of, is that it is a challenge for our processor. They may need some support, we may need some support as farmers going forward, to ensure that we can meet the demands of the factory, keeping the factory going, in light of the carbon tax and the increased pressure that's happening there."
Needed environmental improvements to the plant's operations are also a looming financial difficulty that will need to be overcome.
"The environmental upgrades, there's huge capital investment dollars that are required in that plant right now to meet environmental standards. We've been working with Lantic as well to encourage the government's environmental department to come up with some plans. We've encouraged Lantic to develop a plan to provide that investment, because we feel investment in that plant sends a really strong message that the sugar beet industry is here to stay," said Garner-Skiba.
Garner-Skiba and Bergen-Henengouwen were recently in Washington, D.C. for a meeting with U.S. sugar beet producers to assess the potential impacts from a renegotiated NAFTA deal.
"NAFTA is definitely the unknown right now. I think it would be safe to say that sugar is on the table, and dairy is on the table. We just need to be cognizant that we are a trading card along with dairy," said Garner-Skiba. "Beet sugar only provides about 10 per cent of the (Canadian) domestic market. Ninety per cent is cane sugar. That's actually one of the U.S. arguments as to why there should not be increased access to the U.S., is because we're only supply 10 per cent of our own domestic with beet sugar."
Dispelling myths about sugar and selling the product on a social level to consumers is a constant goal of the ASBG.
"The other big challenge is around public trust. Really helping people that are six or seven generations removed from the farm understand what is happening on the farm, how their food is grown, bio-technology and gene editing is always a concern. As an industry, we really have to focus on providing good solid education to our urban neighbours," said Garner-Skiba.
Looking toward the future, the ASBG is investigating new uses and potential new markets.
"As it becomes cheaper to import cane, beets have to become more competitive. That's something that we really have to watch is the No. 11 sugar price, and that is a concern for us because Canada is one of the few countries that does not have a sugar policy where their sugar beet farmers are protected like in the U.S. and other countries. We have opportunities. We've met with Andrew (Malcolm) in your planning and development department, we're looking at ways we can grow the industry that is not in competition to our processor. Looking at things like feed beets, road de-icer, and we're actually looking at partnering potentially with the U of L on some projects."
Bergen-Henengouwen attacked criticisms about beet sugar being genetically modified.
"It's something that's one of those myths. A sugar molecule is a sugar molecule. There's no DNA in it, so there's no way they can trace whether it came direct from cane or beet sugar. That movement started down in the States probably about three years ago, and some of the sugar users have fallen into that, and they are now paying a price for it, they have changed their minds. Beet sugar is not trading at a disadvantage to cane sugar."