M.D. hoping to mitigate flooding concerns
Posted on March 22, 2018 by Vauxhall Advance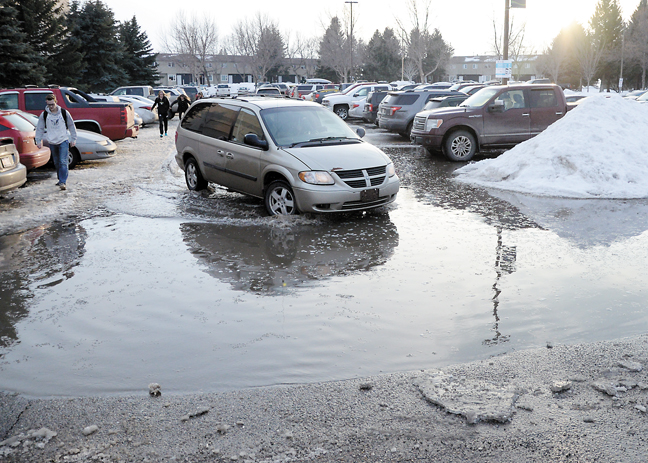 SIGN OF THINGS TO COME?: Fans of the Vauxhall High School Vikings and Queens basketball teams had to navigate themselves around a lot of water if they wanted to cheer on the squads at Lethbridge College during 2A zone competition earlier this month. ADVANCE PHOTO BY GREG PRICE
By Cole Parkinson
Vauxhall Advance
cparkinson@tabertimes.com
With warmer temperatures on the horizon for the area, the Municipal District of Taber has started taking precautions with the eventual melt of the large amounts of snow.
While many are hoping warmer weather takes hold on southern Alberta, it could potentially be a big concern for the M.D. because of the large amount of snow the region has seen in the past few months.
During M.D. council's regular meeting on March 13, M.D. staff relayed some crucial information to the councillors in the event of large amounts of snow melting and potential flooding.
"We are pre-planning in case the warm temperatures come and everything melts at once and we have water everywhere. Behind the scenes we are working on the emergency portion of it," said Brian Schafer, M.D. of Taber Regional Fire Chief. "Basically just awareness, call before you dig because you may flood the guy beside you, so that should roll in at anytime."
M.D. staff has seen plenty of flooding in the past and they are hopeful to avoid another.
After a particularly large event in 2010, the cost to mitigate the water was staggering.
"We had flooding in 2010 with a couple hundred sections of road and our mitigation cost was near $2 million. A portion was funded under Disaster program for Municipal Affairs which we received about two years later. Potential is large with those snowfalls," said Derrick Krizsan, CAO for the M.D.
As a precaution moving forward, one of the things staff has focused on was getting prices locked down for any equipment they might need during.
On top of renting any equipment, the M.D. also has plenty of their own gear that would be used.
"We have a couple big six inch magnum pumps that were purchased back in 2010. We've got lots of smaller style pumps, blocks, barricades, we built more this winter," said Jeremy Wickson, director of public works.
Staff's emergency plan is split into four different levels with different types of equipments listed based on the severity of the conditions.
Level one is a 'typical melt' which leads snow to melt at a sustainable rate but staff still monitors the situation and has barricades, lights, signs, pumps and hoses at the ready.
Level two is when a 'typical melt' accelerates due to warmer temperatures which leads to isolated flooding at intersections and on roadways.
Much of the same equipment is ready to deployed and coordination with the public is established as staff works to address any of the flooding issues.
Level three sees a 'fast melt' with higher temperatures, rainfall or aggressive chinooks that can lead to a much larger level of flooding on intersections and roadways.
This leads council to be consulted and a local state of emergency to be considered as well.
Level four sees the melt of snow overwhelm culvert systems and it creates conditions which compound flooding through rainfall, high temperatures and chinooks.
Notifications go out on social media, the M.D. website and the radio as there is a full deployment of the Emergency Operations Centre.
Lots of planning has went into each level of flooding and after experiencing three major floods over the past eight years, the data they have compiled has provided plenty of guidelines.
"You never know, until the water really starts running, what you've got. We have done a considerable amount of road projects. We have a drainage crew that was started back in 2011 to address a lot of that. As far as preparation, we've sat down with supervisors," added Wickson.
Council was certainly appreciative for the considerable amount of work that has gone into taking precautionary measures just in case.
"Thanks guys for taking the initiative to prepare for that because if we get plus 10 for two or three days, we're going to have a lot of water moving in a hurry," said Reeve Brian Brewin.
In any case of the levels of flooding, the M.D. will be updating their website and social media accounts in order to notify the public on what's going on.
With that said, staff stresses patience is needed from the community if a significant amount of flooding does happen.
"More than anything we'd like people to exercise patience if doesn't come down to flooding," said Krizsan. "The water will run but it won't run all at once and that's something we want to communicate."