M.D. continuing flood recovery
Posted on April 19, 2018 by Vauxhall Advance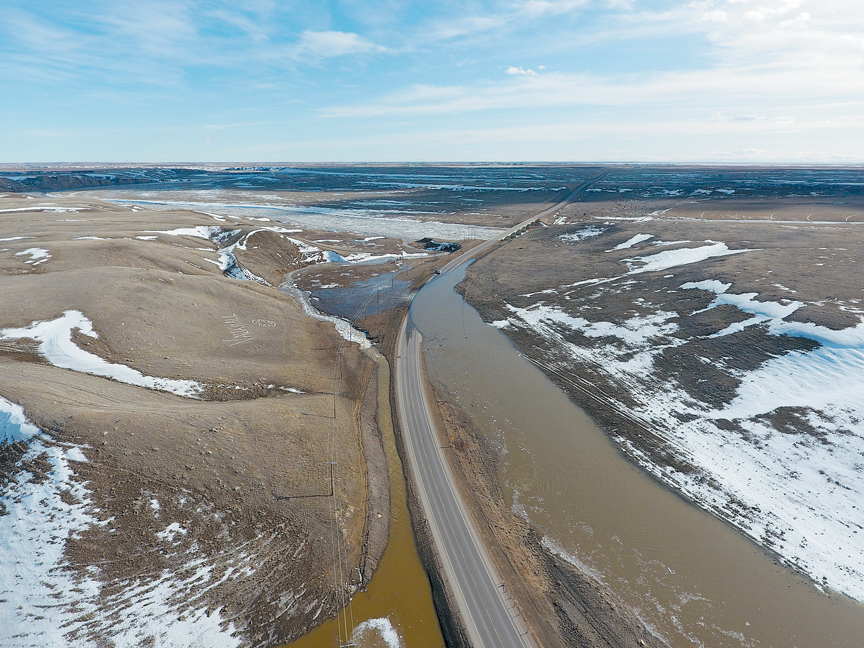 ADVANCE FILE PHOTO
By Cole Parkinson
Vauxhall Advance
cparkinson@tabertimes.com
As spring continues to stall in southern Alberta, the Municipal District of Taber has gone further to prepare for the eventual melt of the winter's snow.
Having already declared a local state of emergency, M.D. staff have been working on defining a procedure for dealing with internal and external water pumping as well as temporary alterations to land or infrastructure to accommodate drainage.
"Based off prior discussions with how we want to handle pumping operations or temporary drainage acts, we've developed this document for council to get some direction on," said Craig Pittman, public works superintendent for the M.D. at council's regular meeting on April 10.
"Our primary objective is to protect life, buildings, residential, commercial, industrial and infrastructure and land throughout the M.D. boundary. Pumping of water and temporary alterations to land or infrastructure for drainage will become a necessity to attain that mandate. We've met with the local irrigation districts, all three of them (Taber Irrigation District, St. Mary's Irrigation District and Bow River Irrigation District), as well as Alberta Environment and Parks which is what started this process on how we need to manage these things. A couple of the local irrigation districts are getting blanket Alberta Environment approvals through the Water Act."
With co-operation between the M.D., the Town of Taber, the three local irrigation districts and Alberta Environment, the need to work together is evident for all sides.
"These organizations are working very cooperatively with us to try and expedite the process to allow us and landowners to manage this flood water accordingly," added Pittman. He also stated that there have been agreed upon areas to discharge the moving water.
"If there is land or infrastructure required to move water, again it's to be moved to an agreed upon discharge point."
With plenty of M.D. staff dedicated to the overland flooding effort, M.D. supervisors felt it important to lay out ground work for how they deal with citizens.
As they will be the most visible staff for citizens, they wanted to make sure all staff knew how to deal with potential interactions, may they be positive or negative.
"As a group we talked about discussions and interactions with land owners, any activities will be documented and filed so we'll have a complete record set up of the operations and actions that occur. Municipal staff, we've left it to a core group that will manage this and act as a communication front for any items that do come up. Those positions include the municipal administrator (Derrick Krizsan), director of corporate services (Bryan Badura), director of lands and leases (Brian Peers), director of planning and infrastructure (Jack Dunsmore), director of agricultural services (Jason Bullock), director of public works (Jeremy Wickson) and the public works superintendent. If any other staff are pulled aside out there, they are to direct that conversation to one of those individuals, primarily their department head to follow up," said Pittman.
Council was in favour of having their employees direct rate payers to contact the heads of each department with questions they may have regarding the pumping of water.
"It's not up to our guys setting up pumps or grader operators to be pulled in. You have to have a core group that's taking this on because farmers will be telling guys who are setting up pumps to put it down a mile or not here or there," said Reeve Brian Brewin.
With temperatures reaching well above 0 degrees in the past few days and the projections of it continuing for the foreseeable future, M.D. staff is well aware citizens will have various amounts of water on their property.
In order to have all of the water flow properly though, the M.D. will need the co-operation from residents as well.
"As rate payers begin to want to pump this water or move water from their land, they may contact the Municipal District of Taber administration office to gain information about conveying that water. A file will be created at that point with the following information being collected — name, location, phone number and nature of request. This information will then be pushed over to either the director of planning and infrastructure or the director of lands and leases to follow up. At that point they will contact the individual," continued Pittman.
Another part of the procedure highlighted was what happens when drainage off a residents land is having negative downstream impacts.
"Pumping or drainage alterations that municipal staff is aware of causing a negative effect downstream on private lands by route of travel through municipal lands or infrastructure, will be followed up. Staff will contact land owner that is conveying the water to notify them of the situation and effects of their operation. The request will be made to cease operations. If water conveyance is not ceased, the municipality will again notify the land owner to cease operations, the land owner will be provided the Alberta Environment complaint phone number to file a formal complaint if they so choose," said Pittman.
Council had concerns about whether or not Alberta Environment would be able to mobilize quickly enough to see the downstream negative effect if that issue ever did arise.
Staff was confident they would be able to as they are already well aware of the local state of emergency and they have people in the are who are helping access what needs to be done.
"So far what I've seen and heard, they (Alberta Environment) are committed to this program and are here to help," added Dunsmore.
If you are looking to drain your land of water, the M.D. administration office can be contacted at 403-223-3541.