Politicians weigh in on Kinder Morgan
Posted on April 19, 2018 by Vauxhall Advance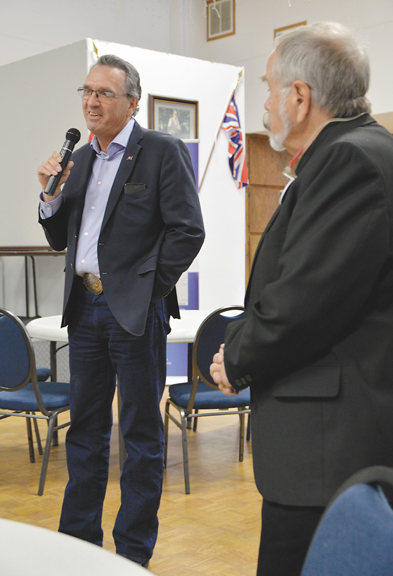 ADVANCE FILE PHOTO
By Trevor Busch and Cole Parkinson
Vauxhall Advance
As fractious pipeline politics continues to poison the investment climate for builder Kinder Morgan's Trans Mountain pipeline expansion, the company has slapped a timeline on the project in an effort to bring both tiers of government to the table to hammer out a compromise.
In early April, Kinder Morgan announced it would halt all non-essential spending on Trans Mountain until it could be assured B.C. would stop actively opposing the project. The company set a firm deadline of May 31 to have that request fulfilled. Bow River MP Martin Shields wasn't surprised by the company's move.
"It didn't surprise me at all, because if all of the investors see that this could go on forever, what's the point? We're risking our money, we've already put $1 billion into it, if there's no insight into this all I'll be doing is spinning my wheels. It doesn't make any sense, so I can see their reaction —pick it up, make up your minds one way or the other."
Tensions around the construction of the controversial $7.4 billion pipeline expansion have reached a white-hot pitch at the political level, and that often means bad news for investor confidence.
"This project was approved over 16 months ago. It was first proposed nearly six years ago. Kinder Morgan has been patient," said Little Bow MLA Dave Schneider. "What politicians need to understand is that capital is not infinitely patient."
The B.C. government argues not all questions have been answered as the pipeline expansion would see three times more bitumen moved to the B.C. coast every day and a seven-fold increase in tanker traffic. The Trudeau government officially approved the project in November 2016, subject to 157 conditions.
The federal government is looking at introducing legislation to reassert federal jurisdiction over the pipeline and may be open to implementing additional environmental protections to satisfy British Columbia its coastline will be safe from an oil spill.
Citing the example of Saskatchewan's current dispute with Ottawa over the imposition of a carbon tax, Shields insisted the federal government needs to start playing hard ball with the B.C. government instead of more limp-fisted words from Prime Minister Justin Trudeau.
"Saskatchewan is still under that threat of the federal government not sending money for programs. Is that a good thing to do? I'm never at the negative side. I think there's other levers that the federal government should be able to do without going to the Supreme Court. I think that's a delay tactic."
"The Supreme Court is good when there isn't a time frame reference like there is here. I believe there's proactive approaches that the prime minister can take, and his ministers, and say we're going to get this done, what is it going to take to get it done before we have to go and say Alberta turn the tap off, us as the federal government, turn the money off."
On Sunday, the recalcitrant provinces' two premiers met briefly with the prime minister in Ottawa to try to work out an agreement. Schneider believes the rule of law needs to be respected, and the federal government needs to step in with strong measures to advance the project in the face of B.C.'s continued opposition.
"A federal buyout strategy is not a viable strategy. Kinder Morgan has said they are looking for final clarity," said Schneider. "Yesterday (April 15) we didn't get any clarity. We got more complication or impediment… another sign that Canada is broken."
In January, the B.C. government considered halting any shipments of bitumen from Alberta until it could study the effects of heavy oil spills in vital waterways. This week, Alberta is moving ahead with emergency legislation aimed at targeting B.C.'s economy, even potentially including restrictions of crude shipments into British Columbia.
The province considering taking on a financial stake in the project, on the other hand, is baffling to Shields if the intent was to achieve leverage over B.C. premier John Horgan's government.
"In this particular case it makes no sense to me, because that doesn't slow anybody down in B.C. that wants to stand in front of a machine. They don't care who owns it, they don't want it to flow. Whether it's Kinder Morgan or whether it's the Alberta government, what difference does it make to those people at the other end? Their ideology is opposed to whoever is sending that stuff down the line, so I don't see the gain in having the Alberta government buy it. I don't know where that gives them more leverage with B.C."
Schneider was not in favour of the federal or provincial government taking on a financial stake in the pipeline expansion project.
"Last week on an investor call, Kinder Morgan was asked if a federal funding backstop was acceptable to proceed, and they said they need total clarity from B.C. that they would stop obstructing this pipeline. Horgan has said he will continue with his court challenges, so no, I don't see this as a viable option. Diminishing shareholder risk is important, but we also need total clarity that B.C.'s legal games will stop. And we don't have that."
A failure to build pipelines over the last decade has had impacts on the broader economy, with Canadian oil producers long suffering from a lack of available pipeline capacity to get their product to tidewater, causing the value of Canadian oil to fall compared to producers in the U.S. and elsewhere. Schneider is skeptical if there might be room for a compromise to be worked out between the provinces and Ottawa.
"Horgan said in 2016 that our premier made no attempt to persuade him to support Trans Mountain when they met. The Alberta premier has yet to deny this," said Schneider. "And yesterday we see our premier telling Horgan that she didn't intend to 'act on' the legislation introduced today (Monday). Not sure what more can be said to that."
Shields believes the Supreme Court should move to try to eradicate all barriers to interprovincial trade in Canada should the Trans Mountain pipeline expansion end in a debacle.
"What I'd love to see is the Supreme Court step in and say provincial boundaries for trade don't exist anymore, let's get rid of them like the beer case out of New Brunswick into Quebec. I think we have so much to be gained through interprovincial trade, and what we've got — as any international trade person will tell us — we have more barriers inside this country than we do with other countries. It is nuts the barriers we have to interprovincial trade in this country. If this blew up and the final result was saying we need to re-examine this whole thing, I think that would be the best outcome possible. Let it totally explode, and then 'this doesn't work, we need something different.'"
The Alberta government estimates that scrapping the pipeline expansion could end up costing the provincial economy $1.5 billion annually.