M.D. staff addresses road concerns
Posted on May 10, 2018 by Vauxhall Advance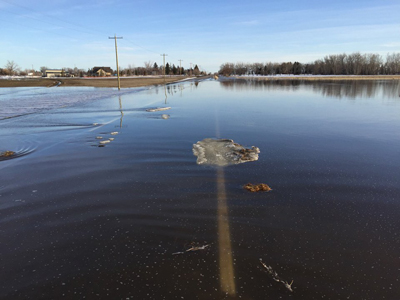 ADVANCE FILE PHOTO
By Cole Parkinson
Vauxhall Advance
cparkinson@tabertimes.com
With overland flooding causing many concerns across the entire Municipal District of Taber, residents had the opportunity to voice their concerns directly to council.
During the M.D.'s annual general meeting in Enchant on April 24, one ratepayer was vocal in his frustrations with how the roads in the Enchant area had been maintained.
"I've been a little frustrated this year and over the past many years on what we're going to do with our grader service. This is the biggest area, that's my understanding, for one person to manage. I think we need two to get through this," said the resident.
Reeve Brian Brewin highlighted the fact the region had seen multiple large snow events and now were dealing with flooding which has made things more challenging when it comes to road maintenance.
"We've had an extraordinary year between snow and now flooding," said Brewin.
While the resident understood that, he also stated the problem is much more than just because of the extreme weather. His main concern comes from the fact his children have been affected quite severely as the buses have been unable to make it down the roads which prevents his kids from going to school.
"Carrying on with this, my kids have missed five weeks of schools this year and it's getting frustrating. My kids need to go to school. If the roads don't get graded, the buses can't come and they still aren't coming," he said. "I understand that bus routes are graded first and that isn't happening." 
Throughout the overland flooding issue, around 20 to 30 per cent of the roads in the M.D. had to be closed due to washouts and soft road conditions which presented safety issues for the travelling public.
In the past few days though that number has dwindled due to the higher temperatures but some roads still remain closed due to the unsafe nature.
"Overland flooding, we still have over 10 per cent of our roads closed and that was 20 to 30 per cent a week ago," said Jeremy Wickson, director of public works.
This wasn't the first time council had heard concerns about roads in the M.D.
Road maintenance was a constant talking point throughout the election campaign in 2017 and council has continued to talk about how they can improve the situation.
"I'll be honest with you, this is something we have been talking an awful lot about is how to improve the grader services," added Brewin.
With the talk of needing more grader operators for the region, M.D. staff gave a quick look at what their numbers were for grader operators.
"Right now we have 11 grader district operators. We have nine for the whole M.D. and two floaters that supplement each of the areas. We've had an exceptional year for maintenance, we've had multiple snow events. Each grader operators has to cover, in some instances, 150 plus kilometres of roadway. Wind also complicates that for us," said Wickson. "It is an ongoing thing, we're always evaluating what we're doing for maintenance practices and how we can improve. I deal with the school boards and deal with bus routes, it has been a difficult year for all of us."
Buses for Horizon School Division are mostly up and running now but some are still have some modifications per the driver.
The M.D. meanwhile will be starting to evaluate the damages done by the flooding in the near future but they estimate damages to be in the $1 to $2 million range though they hope to offset costs with provincial funding from the Disaster Relief Program.
Brewin also acknowledged the resident and said that council would once again look at more potential solutions.
"We'll note that and certainly have that discussion."