Joint councils briefed on Pheasant Festival
Posted on July 19, 2018 by Vauxhall Advance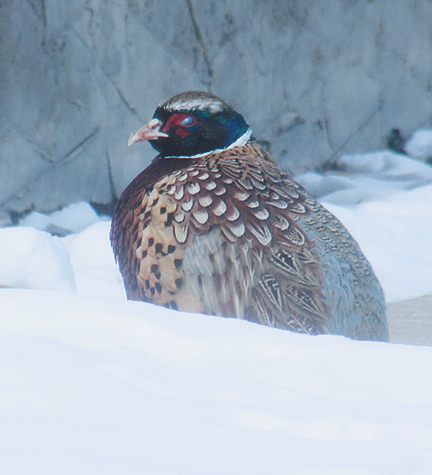 By Greg Price
Vauxhall Advance
gprice@tabertimes.com
With the Taber Pheasant Festival fast approaching in October, in a joint council meeting been the town and the M.D., both got to see exactly how huge of an impact the event has on the area.
Starting in 2011, the event has only grown in prominence after getting a strong foundation of interest in the early years.
"Our goals when we first started the festival, were to first ensure there was a local economic benefit. Also, a key mission statement we had was to conserve habitat," said Todd Zimmerling, president of the Alberta Conservation Association, at a joint council meeting on June 21.
"Everyone knows there is very limited incentive in a rural community to preserve habitat. You are asked to do it, but it's always at a cost to the landowner or the local community. We also wanted to increase hunting opportunities, improving relationships between hunters and landowners while increasing awareness on habitat issues."
The Taber Hunting Festival starts on the first Saturday of the hunting season. There is the novice hunt that is held on the Saturday and the Sunday near a Fincastle site.
"It is an opportunity for people who have never hunted pheasants before to come out to the site and be coached by mentors. We hope that everyone takes home at least one pheasant and I think at present in eight years we have not sent anyone away without at least one pheasant," said Zimmerling. "It has been extremely successful for kids when they first get their licence at 12 to I think we had someone who was 87 and everything in between. We've also been trying to get more women into hunting and this is a great opportunity."
The Monday of the Taber Pheasant Festival is when the regular hunts begin in which 40 sites around the M.D. of Taber have been earmarked. Local landowners or raising co-ops have given permission to hunt on their land.
"At the beginning of June, people will sign up and put in the times they would like. You are allowed to have either a morning or afternoon hunt where you and three of your friends can go. Any hunter can get up to three times during the week, but only one per day. We are trying to ensure people have to stay overnight to increase the economic benefit to the area," said Zimmerling. "We had a thousand people put their name in with the times they would like, and we basically do a draw. If you are drawn first, you get all the sites that you want. If you are drawn 200th, maybe the Monday afternoon slot is not available, but the Wednesday and Friday afternoon ones are."
Other events for the Taber Pheasant Festival include a celebration dinner, dog training, a wing night, culinary event where chefs are brought in to serve pheasant many different ways, and scotch tasting.
For 2017, there were 765 hunters that came into the area. Two years ago, the Taber Pheasant Festival was awarded an Alberta Tourism award for sustainability. A recent economic study completed at the University of Alberta showed on average, a hunter spending $200 a day in the community. Adding up all together with the various hunting days available, it has meant $400,000 of expenditures happening within the M.D. of Taber/Town of Taber during the week of the festival, which does not include return visits by hunters to the area after the pheasant festival.
"That is a pretty significant number for a six or seven-day period," said Zimmerling.
Since 2011, there has been a 60 per cent increase in pheasant licences sold in the province, according to Zimmerling.
"I'm not going to claim that's all from the pheasant festival. But the festival has definitely increased the profile," said Zimmerling, adding 8.5 per cent of all people with pheasant licences in the province come to Taber.
Relationships between hunters and landowners seem to be very respected as Zimmerling noted he is not aware of any landowners who have dropped out of the initiative.
Landowner workshops have been well attended and now 4-H across the province has been raising 18,000 pheasants for the organization every year, with one of the foundation 4-H clubs being found in Hays getting back to raising pheasants, mostly being hens to increase the population.
"From what we've seen, it looks like the local communities are extremely interested and engaged in this," said Zimmerling. "There's been no lack of volunteers which is great to see along with financial support from the town and the M.D., Vauxhall and various sponsors."
The 2018 Taber Pheasant Festival is scheduled for Oct. 20-27.