M.D. council bids adieu to long-serving Dunsmore/Hanson
Posted on July 26, 2018 by Vauxhall Advance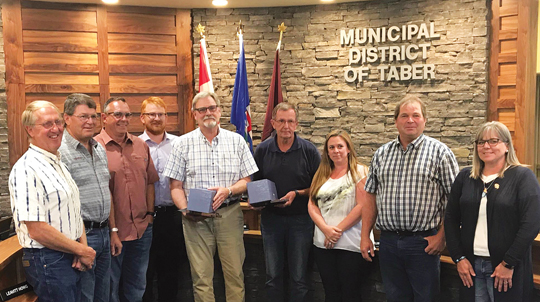 SO LONG AND FAREWELL: With the departures of Pat Hanson and Jack Dunsmore, Municipal District of Taber staff and council had a chance to bid them farewell as they head towards retirement. The M.D. are holding a retirement celebration for Dunsmore's 26 years at the M.D. this Friday at the Administration Building in the Reeves Room from 1-4 p.m.
By Cole Parkinson
Vauxhall Advance
cparkinson@tabertimes.com
The Municipal District of Taber are prepared to move on without two of their esteemed staff members as they head for retirement.
Both Pat Hanson, M.D. director of assessment, and Jack Dunsmore, director of planning and infrastructure, are hanging up their M.D. outfits as they look forward to retirement.
During the M.D.'s regular meeting on July 15, council and staff had a chance to give thanks to both departing members.
Reeve Brian Brewin had the first chance to acknowledge both members and what they had accomplished with the M.D. over their time at the municipality.
While Hanson hadn't been with the M.D. as long as Dunsmore, Brewin acknowledged how much of a difference he made over the several years he was an M.D. employee.
"When you came here Pat, we went from a part-time assessor to a full-time and you've done a lot of positive changes. It's greatly appreciated," he said.
"Jack when you came here, were they riding horses?" asked Brewin to a big round of laughter from the congregation of staff members in the audience. 
"There was one horse in town," replied Dunsmore with a chuckle. "It's been 26 years in the first part of August, 26 good years."
One of the highlights Dunsmore pointed out was all of the people he had a chance to work with throughout his 26 years.
"It works both ways. It's been a pretty darn good place to work and I've been very fortunate with the M.D. of Taber. I haven't worked for a whole lot of council members and I've worked for three administrators. I couldn't have asked for better people to work for," continued Dunsmore.
Councillors also had a chance to give appreciation to the two departing members.
While many on council have only been on the job for a few months, they still recognized how influential both Dunsmore and Hanson were in the office.
"In my short time, I feel both of you have helped me to get up to speed. I know, we rely on these people behind the scenes but I was pleased to get to know you and see what you've done to advance the M.D. You've left us in good hands," said Coun. Tamara Miyanaga.
"I've been in the M.D. my whole life and I've known Jack a lot longer than I've known Pat but both of you have done a lot for the M.D. I think it's a better place because of the both of you and I'm sorry to see you go," said Coun. John Turcato.
While council had obviously worked with Hanson and Dunsmore, not many people worked more closely with them than M.D. of Taber CAO, Derrick Krizsan.
He highlighted Hanson's humour in the office and knowledge as being huge benefits for office morale for staff.
"Pat, it took a long time to try and find somebody who would be willing to come down and work for us. Your type of skill, experience and knowledge is incredibly rare in this industry," he said. "We were very lucky to have you. You took what could be described as a confusing situation in our assessment and in a very short period of time and a considerable amount of work, transformed a mess into a fair and transparent assessment. Your work in that was just incredible."
In talking about Dunsmore, Krizsan was visibly emotional in speaking about the departure of his friend.
Knowing Dunsmore since his first day working at the M.D., Krizsan shared a story about his first meeting with Dunsmore and the effect it had on him.
"Jack, what can I say? You've been a great friend. I don't think it's a surprise to anybody that you'll be missed. I remember my first day of work, I came from ag retail and it was very busy, we'd have 200 calls a day. I walked into my office from Ag Service Board and sat down and stared at my phone, it didn't ring. I thought 'what have I done?' and I was staring at the office phone thinking I was going to call my former boss back to see if I could get my job back. Jack walked in and said 'hey, want to go for a drive?' Anyways, we drove around and ended up in Grassy Lake. We sat down and had a pop, I remember Jack's advice was 'you can make this job whatever you want it to be' and that was great advice. Thank you," said Krizsan.
The floor was opened to staff who expressed their happiness about working with the two retiring members.
"I can't say as much as Derrick did but it's been great working with you guys. The knowledge you are taking with you into retirement isn't replaceable," said Brian Badura, director of corporate services.
The two were both presented with retirement gifts as a way to say thanks for all of their work over the years. Hanson expressed how much the job meant to him and gave thanks to everyone he had the chance to work with.
"I'd just like to say that, in municipal government, there's no way you know everything, you have to trust the people you work with. What I appreciate is being able to do my job with minimal amount of interference and to have the support. It's been good administration, good council, good management and I really appreciate it. I'm going to miss everybody here, it's been a good place to work," said Hanson.
Dunsmore offered many similar sentiments and he was grateful for the opportunities he was afforded during his time at the M.D.
"With the 26 years I've been here, I'm appreciative of what I've been able to do. You as council have enabled me to do stuff I know a lot of people in my same position never get that opportunity. I admire that about council and I really admire it about Derrick, he lets people do their jobs. What you have sitting here (staff in council chambers), isn't just the crop, it's the creme of the crop. Your administrative staff is second to none, the office here, the way they treat people, the way they do their jobs, they are second to none and that comes from leadership at the top. Which is you, the elected officials, and you've got the best in the country sitting right over there (Krizsan)," said Dunsmore. "Thank you very much for the opportunity and as long as I'm around Taber, if you ever need something from me, you ask and I will be there for you. The M.D. has done me nothing but good. Thank you."
For those wanting to wish Dunsmore a happy retirement, you are invited to his retirement celebration this Friday at the Reeves Room in the Administration Building from 1-4 p.m.