Lack of rain concerning; Schneider
Posted on September 13, 2018 by Vauxhall Advance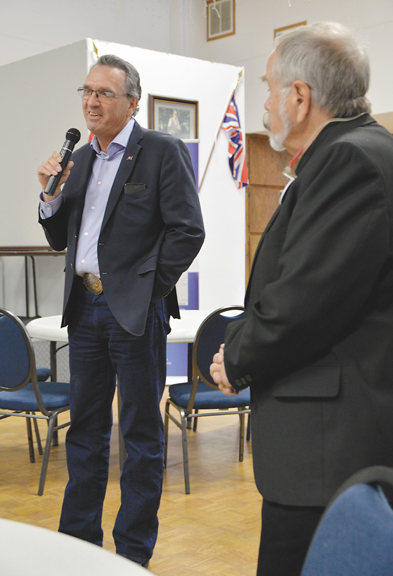 ADVANCE FILE PHOTO
By Nikki Jamieson
Alta Newspaper Group – Coaldale
The lack of rain and a hot summer has been a cause for concern for farmers in the Little Bow provincial riding.
In addition to dryland farming feeling the effect of the weather, the dryness and heat have meant there is less grassland and hay throughout the riding. As a result, ranchers may have to separate calves from their mothers earlier to send to market, or have to do a bigger cull on their heads, as the price of hay is so high.
While neither scenario is ideal, Dave Schneider, MLA for Little Bow, said the situation was about economics and "living to fight another day".
"Certainly dryland farmers throughout a lot of the riding are experiencing drought conditions, probably for the second year in a row. If you are lucky enough to have been underneath a shower during June or July, you are likely seeing a little better yield than your neighbour that wasn't as lucky," said Schneider. "A good three or four day rain would help for next year, but I think most farmers would like to see that happen after harvest is done. Rain likely won't help most 2018 dryland crops now."
The lack of rain this past growing season isn't the only concern for the ag industry in Alberta. India has placed tariffs on pulse crops, such as lentils, peas and chickpeas.
Although Saskatchewan grows most of the pulse crops Canada exports to India, pulse crops have become a staple crop in many areas around Alberta. The ongoing NAFTA negotiations are another big concern.
At the time of the interview, the U.S had struck a deal with Mexico and Canada was rejoining the negotiations, with one of the U.S.'s big hang-ups being Canada's supply management system. As of press deadline, negotiations were still ongoing.
"I, like others, do have concerns with the way these discussions seem to be going, and hope for the sake of all Canadians that a favourable deal can be struck."
With the Oct. 17 date of cannabis legalization fast approaching, municipalities across the province are getting ready for the soon-to-be-legal sale and consumption of it. Schneider notes that while it may change in the future, most producers in Alberta are growing cannabis for the medical cannabis industry, although there may be opportunities for smaller producers to get into the industry down the road, depending on how legislation shapes up.
"As with any crop, it will certainly be based on the growing season and conditions, as well as supply and demand," said Schneider. "As growing cannabis is strictly regulated, I am unsure whether cannabis will truly become an ag crop as we know it now."
At the beginning of August, Schneider announced that he was seeking feedback on the province's Ag Coalition and Bill 6, otherwise known as The Enhanced Protection for Farm and Ranch Workers Act. He says he and his colleagues are still hearing concerns from ag producers over what the bill will ultimately look like.
"The current government did not do a very good job of rolling Bill 6 out," said Schneider, adding that one consistent message he hears is that there is a lack of consultation with ag producers. "When roundtables for discussion were finally set up, many producers were concerned once again that decisions made were not as a result of consultation with them. It's a complaint that I still hear a lot. The official opposition continues to hear from farmers and ranchers at the local UFA or Peavey Mart as well as at the auction markets and farm sales. The UCP may well have to create policies with regard to Bill 6 in the future, and the article in the (Aug. 9 edition of the Sunny South News) was an invitation for consultation in this riding."
"My staff and I are continuing to monitor the feedback that we receive as it comes in. I think it is safe to say that there is still some dissatisfaction among producers."