Potato crop average; Hochstein
Posted on September 13, 2018 by Vauxhall Advance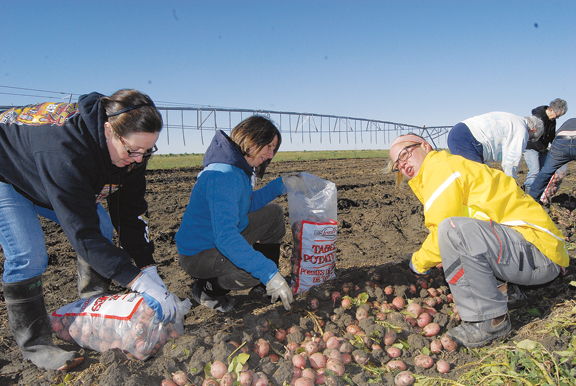 ADVANCE FILE PHOTO
By Cole Parkinson
Vauxhall Advance
cparkinson@tabertimes.com
With harvest still in the early stages, potatoes are looking to be an average sized crop for the year. As it is still early in the season, they don't have any concrete numbers yet but based upon small sample sizes, the Potato Growers of Alberta (PGA) are expecting a high quality, average crop for 2018.
"We've just barely started harvest but I'd say so far, it looks like we are average or slightly above," said Terence Hochstein, executive director of the PGA. "Before we get digging into it, it looks like an average crop."
What they do expect though is an above average crop in terms of quality from the small number of potatoes they have dug up.
"Quality has been excellent from what I've seen so far but we've dug a couple hundred acres out of 55,000, it's pretty hard to tell what you've got. Even the 10-foot digs and the digs we do for estimation ahead of time, they give you a rough number in that 10 feet but there are a whole lot of acres but that's where they start," added Hochstein. "We haven't had rain and it's been hot so it's kind of where we go right now until we start seeing some samples and harvest digs. We just stick with average, no use counting before you're done."
The beginning of the season though was delayed by the massive amounts of flooding in the region. Though there was a slight delay in kicking off seeding, growers were able to make up a lot of ground over the summer months.
"We were delayed by about two weeks for planting but the rapid warm-up and good temperatures early in the season, we caught right up. In some cases, we may even be a little ahead of a normal year in terms of maturity. Whatever we lost at the beginning, we've more than made up," said Hochstein.
Like the previous years when it comes to the agriculture community, rain has been sparse and heat has prevailed in the region. Without the natural moisture, the ag sector in the region turns to the many different irrigation districts to supply water for their crop. Potatoes aren't any different and without that irrigation factor, Hochstein says the crop would be non-existent.
"We would not have a crop without irrigation, plain and simple. You look into our seed growing areas, dryland areas, and they have a crop but it's not huge. Without irrigation we would have nothing," he explained.
Previous years have helped the growers to game plan for the heat and dry summers and they have leaned on that experience once again in 2018.
One thing they have learned is that natural rain, for whatever reason, seems to help excel growth of the crop better than irrigated water does.
"We just manage it (the heat), you continue to monitor your soil moisture and irrigate when necessary. Mother nature's water provides a whole lot more benefits than irrigation, I mean irrigation works but a good rainfall provides a whole lot more," stated Hochstein. "An inch of rain, for whatever reason, seems to do a better job growth wise than an inch of irrigation water. The plants seem to respond better, grow better with rain, no idea what's in the rain but it just works."
The benefits of irrigation though are massive for the PGA and Hochstein acknowledged how much they lean on irrigation districts over hot, dry summers. In terms of how much irrigation they have used so far for the 2018 season, he doesn't know for sure but it has been used more than in normal years.
"I won't know that until February when I can see what we've used as an industry as a whole. Have we used more than a normal year? Absolutely, just because we haven't had the rainfall. We still fall within whatever the allocation irrigation districts give us and we haven't used more than that because there is only so much water to go around."