Sugar beet harvest now underway
Posted on September 13, 2018 by Vauxhall Advance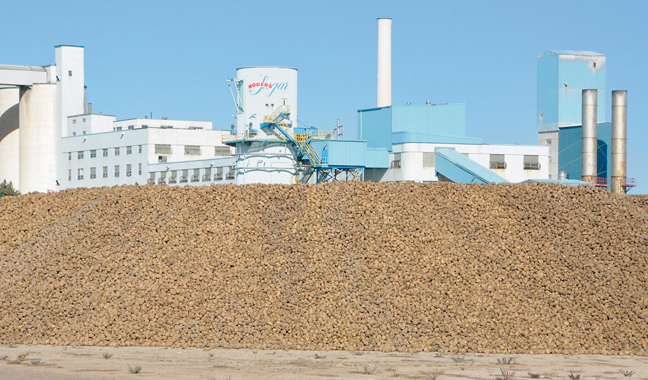 ADVANCE FILE PHOTO
By Trevor Busch
Vauxhall Advance
tbusch@tabertimes.com
Sugar beet producers should be hitting area fields this week for the start of the annual harvest season, and 2018 looks to be profitable for producers.
"By and large I think it's going to be another pretty good year," said Alberta Sugar Beet Growers (ASBG) president Arnie Bergen-Henengouwen. "There's one growing area in particular that had a bit of a later start than what we're dealing with, but it looks to be a very good crop."
Yields are hard to project early on, but Bergen-Henengouwen is anticipating a good showing once the numbers are collated.
"It's always hard to put numbers on it, but I think the overall projections are still between 29 and 30 tonne (per acre) crop."
Overland flooding issues stymied an early start for the irrigation districts.
"Probably the biggest challenge was just getting enough water on. It was definitely a little bit of a later start, with the irrigation districts being a little bit later with the water turn on, and the flooding challenges that happened early on," said Bergen-Henengouwen.
Acres planted haven't seen much fluctuation in southern Alberta in recent years.
"It's been pretty flat," said Bergen-Henengouwen. "If memory serves, the last three years we've been in that 27,000-28,000 acres. Prior to that, it's been fairly stable, there hasn't been a large change in the acreage."
Losses due to hail and other factors were largely a non-issue for producers in 2018.
"There wasn't acres lost, but there was definitely acres that were impacted, but it's pretty minimal compared to other years," said Bergen-Henengouwen.
Expensive environmental improvements required for Taber's Lantic Sugar, Inc. plant led producers to accept a recent contract which factored in those impacts to the refinery's bottom line.
"It's a three-year extension of our current contract, with a couple of adjustments," said Bergen-Henengouwen. "The growers stepped up to the plate — the board felt the need to offer some stability to the industry through this extension. The growers did take a bit of hit, but we felt it was important to get some stability for the industry."
Producers are expected to be hitting the fields as early as tomorrow, with a projected plant start-up date one week later.
"So they're projecting a September 13 start date. I believe Taber and Vauxhall are preparing to open on Sept. 13. They're hoping to get the plant running by Sept. 19. We're looking forward to another good harvest, and hopefully a safe one as well for all the growers out there."