Pool use evaluated as season changes to fall
Posted on September 27, 2018 by Vauxhall Advance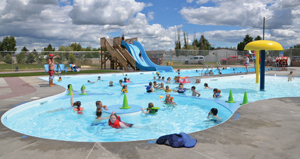 ADVANCE FILE PHOTO
By Cole Parkinson
Vauxhall Advance
cparkinson@tabertimes.com
As the sun sets on the Vauxhall Swimming Pool daily operations for 2018, a final evaluation of the season to date was provided to town council.
With the final day of the pool coming on August 28, council had a chance to review how operations went for the entirety of the season during their regular meeting on September 4.
With a year under their belt, a few changes were made for this year's pool operations.
This year they tried to have lane swimming each morning during the summer and had two people show up consistently. Pool staff recommended changing lane swimming to three days a week for next year.
They received complaints about dropping afternoon lane swim to three times a week and patrons claimed there was constantly 10-12 people that came during the afternoons.
The report though states they never had more than four people and most times there was no one there.
On Fridays, swimmers were allowed to stay an hour past close if they stayed in the shallow end.
With this additional hour, lane swimmers felt like they were being watched, though the report says when there were less than 10 open swimmers there wasn't a problem.
2018 also saw the introduction of teen swim which saw less than average results.
Only seven people showed up for the first session and the second time there was no one due to bad weather.
No teen swim was scheduled for August due to poor attendance and earlier darkness but staff believes with more advertising next year, the program could be a success.
After poor attendance in 2017, senior swim was not brought back this year and no complaints about the lack of the program were received.
Aquafit was a positive for the pool as they received good feedback about their instructors and attendance was solid throughout as people would carpool from around the area to get into the pool. Positive feedback was also received in regard to their swimming lessons and instructors especially with the amount of time they were willing to help kids with one-on-one time.
By the end of the season though they did notice a slight drop off in attendance and the report stated there may have been too many lesson sets.
Pool maintenance and general cleanliness in the facility was also highlighted in the report.
One discussion council did have around the report was whether or not they would add pool rentals back in 2019 after taking them out for 2018.
"If you want to bring the rentals back, you could specify certain times. We did look at other pools and there are some pools that have certain times that you can rent and that's it," said Mindy Dunphy, Town of Vauxhall office manager. "You don't want to push people out."
The reason for taking them out in the first place was due to people showing up to the pool on a hot day only to be turned back because the pool had been rented.
"The first season there was a conflict with 40 above weather and everyone was trying to get in and 10 people were in the pool. That's why we took it out," explained CAO Cris Burns.
Administration said they could bring the policy back at a later meeting to discuss if they wanted to re-add pool rentals.