Kitagawa reaching cycling milestone
Posted on October 4, 2018 by Vauxhall Advance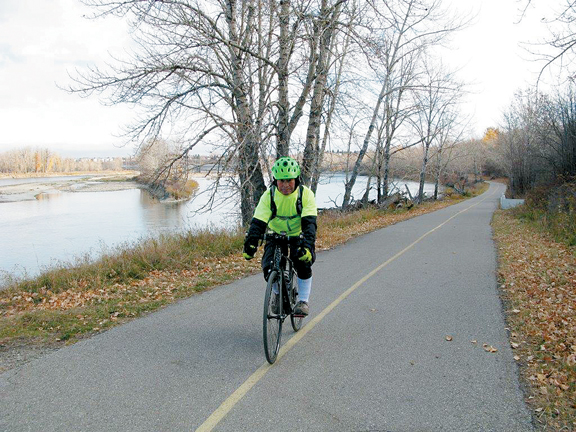 SPECIAL K: Next week will see Yukio Kitagawa cycle into Vauxhall for his 100,000th kilometre in his Pennies for K's campaign fundraiser for the Vauxhall Academy of Baseball.
By Greg Price
Vauxhall Advance
gprice@tabertimes.com
As Yukio Kitagawa rolls into Vauxhall on his bicycle on Friday, Oct. 12, he will truly be 82 years young in every sense.
A philanthropist for the Vauxhall Academy of Baseball since its inception 12 years ago, Kitagawa has intertwined his thirst for a healthy lifestyle with a Pennies for K's campaign which will see him pedal his 100,000th kilometre as he makes his way to Vauxhall town limits from Lethbridge.
Kitagawa has taken pledges for every kilometre he has rode in the venture to help raise money for a new indoor training facility for the baseball academy, where the academy will help celebrate his 82nd birthday and his cycling achievement.
Yukio's challenging journey began on a crisp morning on Sept. 1, 2014. Yukio would go on to cycle for 444 consecutive days towards the goal before taking a break. While small in stature, Kitagawa has been known for his big heart and determination as an advocate for seniors to keep active in their Golden Years.
"When you are sitting on that bike seat for five or six hours, you tend to get a lot of ideas going. I have a positive attitude and tend to have fortitude and self discipline," said Kitagawa. "It's attributes like those that have helped make this ride successful."
That fortitude was forged at a young age during his family internment during the fallout of WWII. Living in Mission, B.C. at the time with a father who had 10 acres of dairy/fruit farming, Pearl Harbor would forever change Yukio's life path.
"I was only six, but it lasted until I was 12. During that time, I experienced quite a bit where I was working since I was six all the way through," said Kitagawa. "It showed me the value of hard work at a very young age and the endurance it required. With my family, you went from being citizens of Canada to being considered an alien. There was discrimination the likes of you wouldn't see today. It was those harsh conditions that helped make me who I am today."
That person today is someone who wakes up at 3 a.m. every day for breakfast to prepare for his cycling rituals at 5 a.m. along the many pathways and street bike routes near his home in Calgary. Cycling has always been a love of Yukio's, but so has powerlifting for which Kitagawa has been provincially and nationally recognized in various competitions and results.
In his Pennies for K's campaign, Kitagawa has already cycled around the circumference of the earth twice (80,150 kilometres) since he started his trek four years ago.
"I think I've only had 116 days off since I began riding, which has been pretty hectic over four years," said Kitagawa with a chuckle, whose wife Barbara has supported him in every single bike pedal rotation along the way.
"I ride about 20 kilometres and then I stop to have something to eat and then go back at it again. I finish after about 70 to 80 kilometres a day."
Some of that break that Yukio spoke of was when another cyclist took him out in a biking accident a couple of years ago in which he suffered a broken collarbone and four fractured ribs. Unfazed in his Pennies for K's Quest, Kitagawa was back on the road in half the time of his estimated recovery timetable.
Kitagawa is planning to depart Lethbridge at around 10 a.m. on Oct. 12, in which he plans to be cycling into Vauxhall around 4 p.m. for his historic 100,000 kilometres in his Pennies for K's fundraising campaign. Afterwards, the Vauxhall Academy of Baseball will be celebrating his 82nd birthday with a nice dinner, some cake and a presentation at Vauxhall High School.
He hopes while his cycling has helped raise a good chunk of change towards a new indoor training facility for the VAB, he also hopes it inspires others to continue on with an active lifestyle, regardless of age.
"The importance of life is to have goals and purpose. It can be having any goal. As we tend to get older, our goals seem to gravitate from day to day without purpose. You can't stop moving along the way," said Kitagawa.
"Once this goal is done (100,000 kilometres cycled), it doesn't mean I'm done. I'll have a goal of cycling three times around the earth at 120, 225 kilometres. Just because one gets older, you can't afford to sit around, that's not a good thing."
When Kitagawa was 15 years old, he was inspired by a young Reno Lizzi in Lethbridge that he would sell newspapers to.
Lizzi passed away in 2005, and was integral in bringing Pioneer League professional baseball to Lethbridge in the form of the Lethbridge Expos and then Dodgers. He introduced Kitagawa to the game and eventually coached him at the minor level.
In memory of Lizzi from his childhood, as the Vauxhall Academy of Baseball was formed 12 years ago, Kitagawa formed the Reno Lizzi scholarship/bursary in his name and has been a philanthropist of the academy ever since.
"The Vauxhall school was in trouble (with declining enrollment numbers) and with how important I think education is, I did not want to see a school go down," said Kitagawa in an earlier interview with The Advance. "That's how my wife and I got involved. The baseball academy was a way to get that enrollment back up."
For more information on the Pennies for K's campaign, you can call Vauxhall High School at 403-654-2145.