Wrights reach rare milestone in wedded bliss for 78 years
Posted on October 25, 2018 by Vauxhall Advance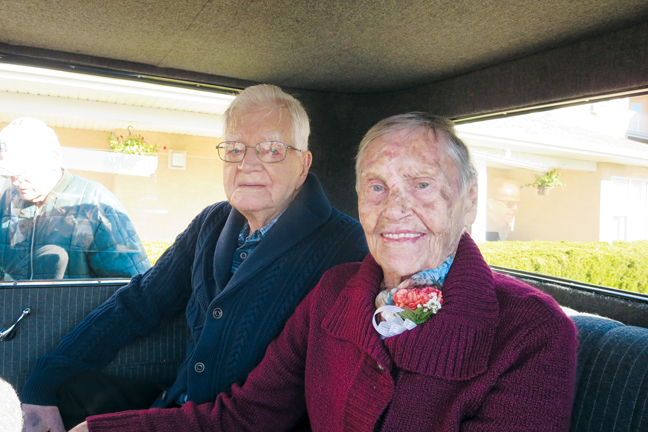 LOVEBIRDS: Russell and Mildred Wright celebrated their 78th wedding anniversary in style recently, cruising around in a Model T Ford. ALTA NEWSPAPER GROUP PHOTO BY GILLIAN SLADE
By Gillian Slade
Alta Newspaper Group – Medicine Hat
They have entered an elite circle having achieved something most married couples can only dream of.
Russell and Mildred Wright celebrated their 78th wedding anniversary last Friday, shared a meal with family, and then took a drive down memory lane in two different Model T Fords from around the time Russell was born in 1917.
According to one estimate on the Internet, less than 0.1 per cent of married couples reach their 70th anniversary, and the Wrights are already eight years ahead.
Russell, 101, and Mildred, 97, still lived in their own home in the Vauxhall area until earlier this year, when they moved into Meadowlands Retirement Residence in Medicine Hat.
It does not take family long to sum up the qualities they believe have contributed to the success of nearly eight decades of marriage.
"Determination, hard work, love and respect," said Mable Leeson, their daughter, choked with emotion.
The example they have set is an inspiration to the extended family, said granddaughter Sandy Nygaard.
"They can laugh at themselves and each other," said Nygaard.
Russell and Mildred's wedding, during the Second World War, took place on Oct. 19, 1940. The bride wore a pale-blue, cocktail-length gown, with an A-line skirt that had a fine net overlay and taffeta underskirt. It had been hand-made by the bride's mother. The dress and veil have survived all these years and are one of Leeson's treasured possessions.
The bride and groom came from ranching and farming families near Enchant in the Municipal District of Taber. They met at a dance, appropriately as they both loved dancing, said Leeson. Mildred actually went to the dance with Russell's brother but hit it off with Russell instead, and the rest is history.
When Russell went off to serve in the war, Mildred and their two children moved into a house with her family, said Leeson.
"I think he was gone about three years," said Leeson.
After the war, they decided to establish a farm of their own near Iron Springs, but life was not easy. Hail storms decimated crops several years in a row. In the meantime, more babies were arriving for a total of 14, with 13 surviving.
"They had some really rough times," said Leeson.
They sold the farm, packed up, and moved to Vauxhall where Russell worked for the Prairie Farm Rehabilitation Administration, said Leeson.
The PFRA was established in 1935 in response to the widespread drought, farm abandonment and land degradation of the 1930s. The family later moved to Hays.
Even though life has sometimes been far from easy, Russell and Mildred each have a good sense of humour, said Leeson. Mildred was the disciplinarian, a hard worker, loving, and someone you could always turn to. Russell is known as being gentle, caring and kind.
"We are so blessed to still have them both," said Leeson. "Laughter got them through the tears."
Their longevity can perhaps be attributed in part to always keeping busy and having a variety of interests, said Nygaard. Both are keen gardeners, Russell loved building models depicting farm life and Mildred is musical and plays the piano.
They now have 33 grandchildren, 48 great-grandchildren and three great-great-grandchildren.
Nygaard says succeeding generations have got tough shoes to fill. Her most delightful memories of Russell and Mildred's home is it being a place that was "always full of laughter."