Vauxhall hunting tradition comes to an end for Californian
Posted on November 22, 2018 by Vauxhall Advance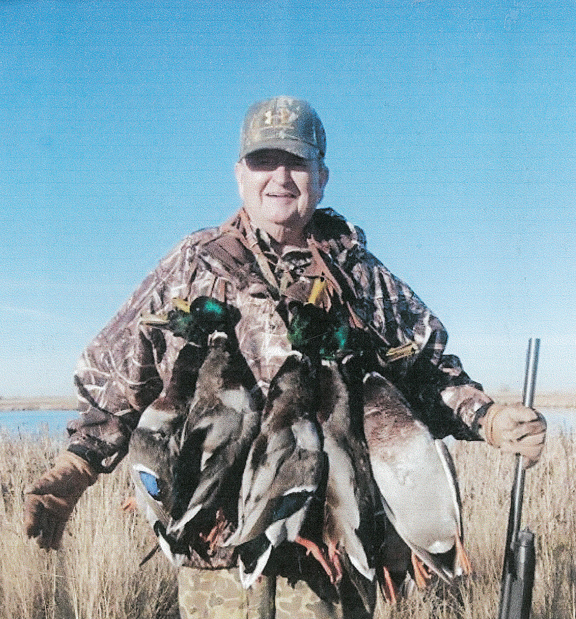 END OF AN ERA: American Wayne Johnson had made the Vauxhall area his second home for his passion for hunting for more than three decades. ADVANCE PHOTO SUBMITTED
By Greg Price
Vauxhall Advance
gprice@tabertimes.com
An end of an era has come for avid geese hunter Wayne Johnson.
For 35 years, Johnson has come to the Vauxhall area every November from the United States to pursue his hunting passion. Now in his 90s, discussions with his family and concerns in flying such a long distance has Johnson stopping his trips to the area.
"When you get to my age, the chances of having a problem out in the middle of nowhere is greater than when you are in your 20s," said Johnson who currently resides in Victorville, California. "If you have health problems in an isolated area, it can get awkward."
Nevertheless, he wanted to tip his hat to farmers in the area that were so kind in allowing him and his friends to hunt on their land, along with being grateful for the friendships he made along the way.
"I've met so many wonderful people," said Johnson, adding a farmer friend in California had a mutual acquaintance from a farmer in the Vauxhall area who said his farmland was flush with geese that were at times proving troublesome.
In his more than three decades of hunting in the Vauxhall area, Johnson could only recall once where an area resident gave his hunting party static when they inquired about having access to their land.
"There was only one time someone was negative towards us. And I heard from people he is negative with everybody," said Johnson with a laugh. "Everyone else was so nice. There's still people I talk to, the Huvenaars are friends of mine and the Friesens…you name it."
Hunting both north and south of Vauxhall, hunting has been a life-long passion for the Californian.
"I've hunted since about since I could walk," said Johnson with a chuckle, adding he just got back from opening day of hunting season in his state of California, prior to his interview with The Advance.