VHS Wall of Fame inductees honoured
Posted on November 22, 2018 by Vauxhall Advance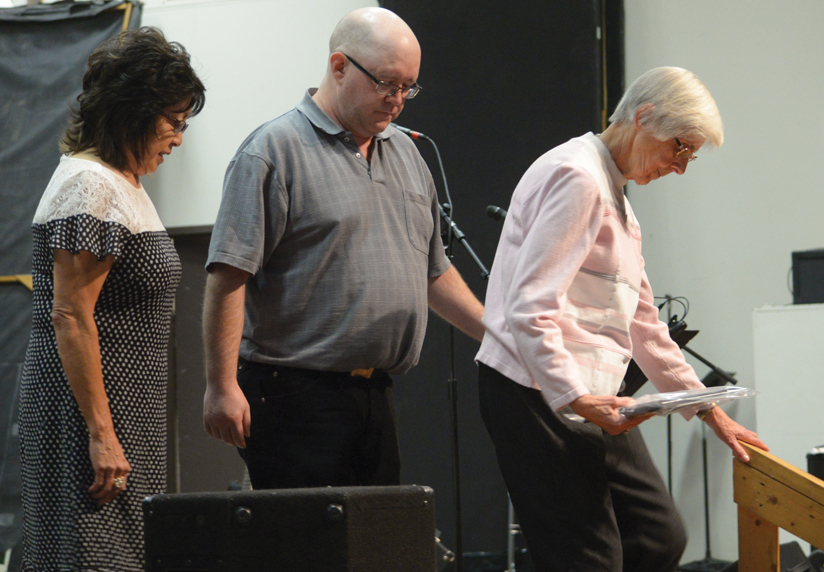 ON THE WALL: With Joanne Stober unable to attend the VHS fundraiser, Lois Maloney, who nominated Stober for the Wall of Fame, Joe Stober and Theresa Stober were in attendance to accept the award on her behalf as well as telling the audience about Joanne. ADVANCE PHOTO BY COLE PARKINSON
By Cole Parkinson
Vauxhall Advance
cparkinson@tabertimes.com
As is tradition every fall, Vauxhall High School has inducted a new class for their Wall of Fame.
This year sees former students Joshua Klemen and Joanne Stober added to the VHS Wall of Fame and they were both honoured during the school's 24th annual fundraiser banquet held at the Vauxhall Community Hall earlier this month.
"There isn't a day that I walk by where students aren't looking at our Wall of Fame," said Todd Ojala, principal at VHS of the Wall of Fame. "The Wall of Fame was designed to inspire the students of Vauxhall High School to help them realize they could do anything they want in this world."
Klemen moved to Vauxhall in 1984 after his parents moved to a farm north of Vauxhall and he attended Vauxhall schools from Kindergarten to Grade 12. After graduation in 1999, he left to join the Canadian Armed Forces where he has remained ever since and he has served as a lieutenant colonel since 2017.
As he was unable to attend the ceremony, his friend Jason Tolsma accepted the award on his behalf.
"I enjoyed my years at Vauxhall High School having gone through school with most of my classmates from Kindergarten through Grade 12. I remember having strong bonds with many of them, while much of the specifics have passed in my memory, I do have many fond recollections of class trips, sports teams and other harmless trouble making. Will not go into detail here," said Klemen's acceptance speech as read by Tolsma.
Klemen had also served a tour of duty in Afghanistan from 2010-2011 and even though he has been away from Vauxhall for several years, he stated his memories of the area have never left him.
"I left a few shorts days after graduating to begin my military training but my roots in Vauxhall have never left me," his letter stated. "Thank you for this recognition, I am honoured to be included and thankful to have attended VHS."
Joanne Stober was raised in Hays and graduated from VHS in 1991.
Stober went on to study French immersion in Quebec where she also taught one year of high school and from there she acquired a graduate diploma with honours in communications and production.
She didn't stop there as she also received her master of arts and media studies as well as a PhD in communications with distinction. Currently, Stober works at the Canadian War Museum in Ottawa as a historian of visual culture.
Stober also was not able to attend the banquet and her brother Joe and mom Theresa accepted the award.
"I am sincerely grateful to be an alumnus of Vauxhall High School. Thanks for this award and recognition of my achievements and success," said the acceptance speech read by Joe Stober. "I am thankful for having begun my life in a small town where I was loved and supported by so many people. I take that into my career and cherish being able to create spaces of inclusion even when topics are increasingly more difficult to talk about."