MP Shields reflects on 2018
Posted on January 10, 2019 by Vauxhall Advance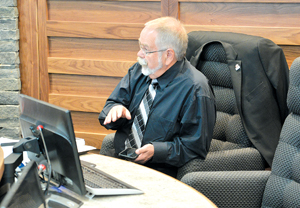 ADVANCE FILE PHOTO.
By Trevor Busch
Vauxhall Advance
tbusch@tabertimes.com
Thwarted pipelines, economic distress and trade chaos may have punctuated much of the national narrative in the past year, but Bow River MP Martin Shields is looking forward to the political front and the challenge of a federal election in 2019.
"I think the economy has been one of the big issues of the past year, probably more so in Alberta than in many parts of the country. The economy has been the toughest part," said Shields. "The CPTPP (Comprehensive and Progressive Agreement for Trans-Pacific Partnership), Canada was one of the six that signed on to that. That was the agreement that the Conservatives had negotiated."
Another trade file that left North Americans holding their collective breath throughout much of 2019, renegotiation of NAFTA (North American Free Trade Agreement) and the contentious back and forth between Washington and Ottawa eventually resulted in a new agreement, but flaws still remain.
"The NAFTA one that we would like to see done, they're still writing that one as far as what I'm understanding. So there's still details to be worked out to find out actually what it means," said Shields. "The tariffs are still there on steel and aluminum. I'm beginning to hear that from the agriculture sector, a lot of machinery is made out of steel, so I've heard from some people either it's not available, or significant cost has been added because of the steel tariff. That's a challenge out there. The irrigation districts in the past year had extreme flooding in some areas, which they've been able to repair for the most part, which is good to see that happen."
Many Canadians would like to see more stringent rules around immigration, and more efficient and safe handling of immigration files moving forward, contends Shields.
"Immigration has been a challenge in 2018. I think we all believe at one point we were all immigrants, but I'm finding a lot of people in 2018 believe that we should have orderly immigration. People crossing the border illegally, jumping the cue has been a large concern for a lot of people. It's not being suggested that we don't need or want immigration, but it is being suggested that it's done in a more orderly fashion than it currently was in 2018."
Like many opposed to the idea of a carbon tax, Shields argues that an emphasis on innovation will be far more effective in finding solutions to environmental challenges.
"We believe that is not adequate to deal with the environmental situations that are out there. It's a tax, it's a redistribution of wealth. That's another crippling piece for our economy. Yes, transitioning will occur, and we all understand that innovation — we have a tremendous oil and gas industry, and innovation happens. At some point, there will be other technologies developed, but in my mind you want to do that (make change) through innovation rather than beating people with a stick. A hidden carbon tax on everything I don't think is the way to innovate and get things changed. It's definitely a challenge in the small business world."
Highlighting 2018 by-election wins for the Conservatives in Quebec and Ontario, Shields believes there is a growing groundswell of support for the Conservative Party from coast to coast.
"I think that's an indication that people aren't just looking at the Liberal Party, but also the Conservative Party. The polls are now showing there's been significant change between the Liberals and the Conservatives. The Liberals have decreased and the Conservatives have gained, and I think that momentum will continue into 2019."
Not anticipating any spill-over effect on the federal campaign's decorum due to 21st century American-style political machinations, Shields does believe the election will be well underway long before candidates officially hit the hustings.
"I'm not sure about American campaign tactics or rhetoric — I'm not sure that I would suggest that we'll see that. I think like in 2015 we'll see a lot of election campaigning going on before the writ was dropped. Both parties have most of their candidates nominated — I think the Conservatives have 170 candidates nominated at this point, that's the most nominated. Personally, I've also been the person nominated to run for Bow River, which I'm privileged to have that honour."
As the party finalizes its campaign strategies and platform in the lead up to a fall election, Shields is keeping any details close to the vest.
"I would suggest that specific details aren't out at this moment, but there will be a full breadth of great environmental, innovation policies to deal with the economics of the country. There's some very significant, I think very down to earth policies being developed and in the works. Those will be rolled out in not very long. It will be a very strong campaign with great candidates. There will be a full-fledged election platform that will be positive, it will have a sense of change — of things that can be done, and will be done. The economy is probably the number one issue out there. You're going to see some very positive moves forward for the economy."
While the long-term sustainability of the newspaper industry is a question being faced by media across the continent, Shields still views the breadth of services provided by rural weeklies throughout the Bow River riding as an essential asset to the fabric of many rural communities, emphasizing a relevance that has hardly faded with the advent of a digital footprint.
"In our constituency, there's seven rural weekly newspapers. I really find that those newspapers in the rural communities really are a strength — communications, reporting, as you see all of them do they support community organizations and provide publicity. So it's a real strength in the constituency, the weekly newspapers, and I really support all the weekly newspapers and the service that they provide for the community, because it's an essential, important piece."