Queens earn bronze at zones
Posted on March 19, 2015 by Vauxhall Advance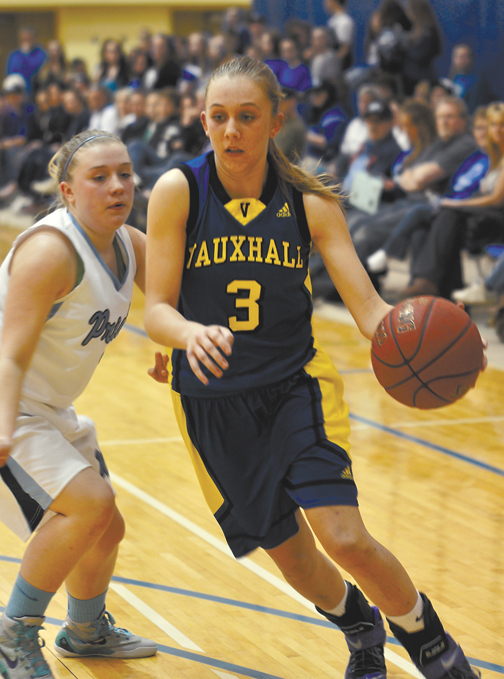 By Greg Price
Vauxhall Advance
gprice@tabertimes.com
A cliché in sports is trying to peak at the right tie.
The Vauxhall Queens girls basketball team did just that, winning the bronze medal at 2A south zones at Lethbridge College on Saturday.
The Queens raced out to a big lead before hanging on for a 46-43 victory over St. Mike's.
Mikayla Bell scored 13 points and teammate Megan Kondor added 12. Amber Ruggles helped the cause with nine points.
"We came out flying, we were up 21-4 at the end of the first quarter. As soon as we did that I was a little worried," said Allen Matthews, head coach of the Vauxhall Queens girls basketball team. "We had tough game Thursday and a tough game Friday, so I wondered how much they had left. We let them chip away the rest of the game, but we ended up hanging on which was sheer will and determination that they weren't going to let it slip away."
Queens started its zone run by avenging earlier defeats at the hands of the Kate Andrews Pride by turning the tables in a 63-51 win.
Kondor had a game-high 28 points and Bell poured in 16 points.
"We played them earlier in the year in Stirling and they handled us pretty easily. We didn't have two of our starters where they knocked out our two top scorers in the first quarter physically. It looked a little more like rugby at times," said Matthews with a chuckle. "But I'd have to say that was one of the best games they've played all year. They came out firing and played well the whole game. It was tight in the fourth, and then our Megan Kondor took over and said we are not going to be denied this time."
It made for a tough semifinal match up against top-ranked Immanuel Christian on Friday that saw the Queens pushed to the bronze-medal game with a 50-33 loss. Immanuel Christian would go on to win the zone with a victory over Picture Butte in the championship final.
Ali Blokker netted 13 points and Kondor had 10.
"We stayed within 10 and had to down to eight with about six minutes left, but we just didn't have the fire power to keep up with them," said Matthews.
QUEENS COURT: The Vauxhall Queen's third-place game on Saturday was only for pride, but it could have been more for a provincial berth if not for Alberta Schools Athletic Association politics.
Earlier during zone week, the south had two wild cards into the provincial tournament along with the zone champion, but the north filed an appeal and won.
"It was kind of disappointing. I've never seen it appealed before," said Matthews, who has a long career of coaching high school basketball. "The north has some teams that were ranked according to last year and then they never really played anyone in the first three ranking periods. Then three of those (ranked) teams went to Rundle College and got killed by the south. They were winning earlier, but they weren't playing anyone ranked so you couldn't bump down their ranking from before."
Had the original provincial berths been allowed for the south, it would have made for only the second time Vauxhall has made it in girls basketball according to Matthews.
"But I was pleased with how the girls responded. I was very proud of the girls. Our top two girls went into zones injured and played through some significant ankle injuries and pushed through," said Matthews.