Vikings start season in dominant fashion
Posted on April 24, 2015 by Vauxhall Advance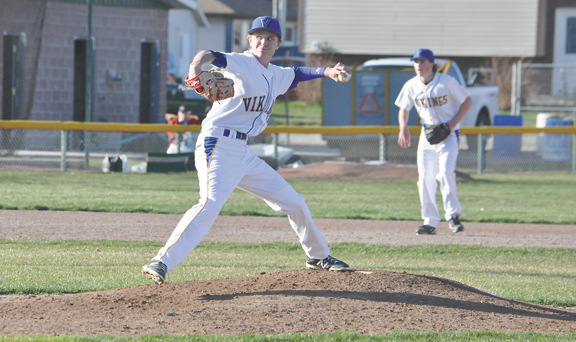 By Greg Price
Vauxhall Advance
gprice@tabertimes.com
Vauxhall Vikings boys baseball team has come pillaging out of the gate to start its regular season with three victories.
The first was a 14-4 victory over Crescent Heights Vikings in Vauxhall's home opener last Wednesday. Blaise Unruh started the game, earning the win on the mound with Hunter Johnson pitching in relief. T.J. Tornquist helped pace the offence with a two-run home run.
"We've played each other our first game for the last three or four years in a row. I figured we would hit the ball, which we did, because we've been doing batting practice inside for a couple of months now," said Rob Virginillo, head coach of the Vauxhall Vikings baseball team. "I was a little concerned how we would do on defence and throwing strikes, but we actually did quite well. For a first game, I don't think we had any errors and we threw a majority of strikes."
On Saturday, the Vikings dominated Maple Creek 22-0 in Medicine Hat.
Matt Melnychuk pitched four innings, giving up one hit with Kaden Fujita tossing one inning goof relief. Dylan Wolosuk went a perfect 5-for-5 at the elate.
"It was a little bit of both," said Virginillo, citing both the Vikings strong roster with Maple Creek also being one of the weaker teams in the league. "There was a big gap from top to bottom. They are not a very good team, but again we threw strikes and we hit the ball hard. When we did make a mistake, we came back right away and it didn't cost us anything."
Saturday's slate continued in Medicine Hat with a 13-3 win over Eagle Butte. Hunter Johnson pitched four innings and Unruh pitched two. Fujita registered three hits.
"The game against Eagle Butte was closer than the end result was. They were up 1-0 after the first tinning and it was 8-3 for awhile and then busted out and scored to make it 13-3," said Virginillo. "Eagle Butte was solid. They don't make a whole lot of mistakes and their starting pitcher was pretty good, but then we got to the bullpen where it's the depth. We have a lot of depth which is really nice to have. Again, if we made a mistake we remedied it right away with someone else picking them up."
The Vikings traveled to Taber to play the W.R. Myers Rebels yesterday with results unavailable at press time. The team then returns home Saturday to play two games, with the first starting at 11 a.m. against Foremost and then a 4 p.m. game against Oyen.
"This weekend will be interesting because both Foremost and Oyen have won their first two games I believe and beat some teams I thought they maybe wouldn't have beaten. It will be interesting, but unfortunately we are down one of our top players in Matt Melnychuk. He sprained his ankle yesterday and he's our starting centrefielder and one left-handed arm and I have no idea how long he's going to be gone or if he's going to be able to return," said Virginillo. "We have the depth that helps."
Having 14 players with every player having played ball, the knowledge is there.
"They know what they're doing and I can put them in a situation where I'm not too concerned. I also have 5-6-7 guys I can put in and trust to throw strikes," said Virginillo.
"But not having two of my arms right now (injured), that is going to be the test to see if those secondary, third and fourth guys can come in, especially during a doubleheader. It will be a challenge."
The Vikings lost only two Grade 12s from last year, with one of them a starter.
Vauxhall Vikings will be hosting the Tier I League Championship at the end of the season on May 28-30.
"We combined all the East together and all the West together, so every game is a league game. The top four at the end meet from each side to compete for one league championship where the next four meet for the Tier II League Championship," said Virginillo.
"We are definitely gearing to having our championship and we're hoping our two injured players can come back."