Queens move onto provincials with South Zone 2A banner
Posted on November 19, 2015 by Vauxhall Advance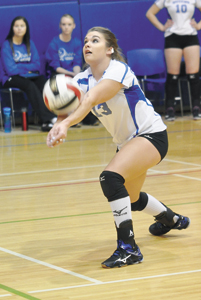 (Advance Photo by Greg Price) BUMPED OFF: Queens' Taylor Holst sets up the attack with a pass in the backcourt against the St. Mary's Auroras in round-robin pool play at Lethbridge College last Friday.
Greg Price
Vauxhall Advance
gprice@tabertimes.com
The Vauxhall Queens girls volleyball team easily could have taken the zone tournament off this past weekend at Lethbridge College.
With a 2A provincial berth already assured due to Vauxhall hosting them in late November, the Queens could have taken their foot off the gas pedal.
But, the Queens were very business like in achieving the 2A South Zone banner with an eventual two-set win over F.P. Walshe in the championship final.
"This team is just mentally tough. They go out and battle all the time and they don't panic if they fall behind," said Scott Reiling, head coach of the Vauxhall Queens girls volleyball team. "One thing I love about them is they don't play soft when the game gets tight or we start to fall behind, they don't play scared ever."
Case in point; the final against F.P. Walshe. The Queens cruised to a 25-15 first set victory, but then had their troubles in the second set before clinching it.
"We had a lead through the whole thing and then we missed a couple of serves, then shanked a pass or two late in the game and they ended up tying it 20-20 late," said Reiling of an eventual 26-24 Queens win to clinch the banner.
"The difference between the two teams was at that point, our girls took a deep breath and knew what to do in the situation and we started hitting ball after ball after ball and they started playing safe. They started playing scared to lose the game."
The Queens marched through round-robin play late last week by taking every set to earn first in its pool on the crossover.
There they met a pesky Kate Andrews Pride team in the semifinal in which the Queens dropped a set.
"That was more about more injuries than the way we played. Lost a couple of middles and I made some changes but I didn't have bench players to come in to fill those spots because they were already," said Reiling.
"We had to limp through the first game and then won the second and third one. Kate Andrews is a good team, and we made adjustments after that first set. We've had injuries all year, so people coming in to play different positions was not a super panic situation."
The banner was important to the Queens as a moment of redemption. Last year the Queens put on a good run, but came up a little short in the zone final along with coming up short at provincials as a zone silver medalist.
"This year we got the banner. For my Grade 12s, you could see that sense of relief and they could go forward from here," said Reiling.
The Queens have this weekend off as they practice for 2A girls volleyball provincials which Vauxhall will be hosting on the Nov. 27 weekend. Look for a provincials preview in next week's edition of the Vauxhall Advance.