Queens conclude season
Posted on December 3, 2015 by Vauxhall Advance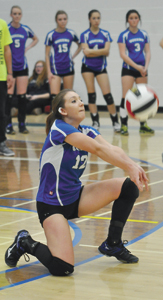 (Photo by Greg Price) PASSING FANCY: Mikayla Bell of the Vauxhall Queens bumps the ball to the front row during opening-match competition at 2A girls volleyball provincials in Vauxhall.
Greg Price
Vauxhall Advance
gprice@tabertimes.com
This time, David did not slay Goliath.
Nerves and a lack of size conspired against the Vauxhall Queens girls volleyball team, as the hosts of 2A girls provincials finished with a fifth-place finish, bowing out of the quarterfinals against Spirit River.
"Our girls played well, but at the end of the day, our girls were a little undersized against the upper-echelon teams," said Scott Reiling, head coach of the Vauxhall Queens girls volleyball team. "We had a little bit of bad luck getting Spirit River in that quarterfinal. They were definitely one of the top two teams in the tournament. We put a hard-fought battle up. It was a good way to end the season because I think the girls left the court with their heads held up high knowing they did their best, but it wasn't enough."
An all-business squad throughout the season in which lapses were few and far between of allowing long strings of points in a row, Reiling admitted his Queens squad seemed jittery at times as hosts to provincials.
"We had some lapses throughout the tournament where I think we were tight being in front of the home crowd. Maybe it was nerves, the anticipation of play," said Reiling, adding Friday's play was much stronger than Thursday's as the squad rattled off three straight match victories.
"And those were much deeper teams (on Friday) and we battled hard and won three."
A chance to win first in its pool materialized for the Queens with the storing of victories, but a loss in the Queens final round-robin pool match caused the tough crossover for the Queens against Spirit River.
"We were tight again in front of the home crowd and we lost in three (sets)," said Reiling. "That's sport, it happens."
While the Queens would have liked to have been having the chance to play for a medal, the squad did finish fifth overall in the province, in which Alberta has 101 2A schools.
"There were some teams there that were bringing stuff we just couldn't stop. They were definitely a couple of gears ahead of where we could play. We wanted to dodge those teams as long as possible and unfortunately we got one of them in the quarterfinals," said Reiling, adding the two toughest teams ended up in the Queens side of the playoff draw, as Edmonton Christian would end up defeating Spirit River in the semis and eventually winning gold, never dropping a set along the way.
It caps another solid season for the Vauxhall Queens who never seem to field a squad that is anything less than solid with multiple zone banners and provincial appearances in recent years.
"It's the resiliency and mental toughness. We said all along they played bigger than they really are. My middles were fix-foot-six, five-foot-seven, and they refused to lose," said Reiling.
"It's great to coach when you have a team out there that's willing to go to war. They were not intimidated by anyone and lay it all out on the court. When that happens, good things are going to happen and you beat teams that you shouldn't."