Vikings win tournament title
Posted on January 21, 2016 by Vauxhall Advance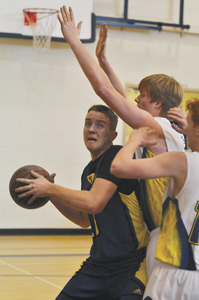 (Photo by Greg Price) BOARD ROOM: Alex VanderStoel of the Vauxhall Vikings boys basketball team goes back up for the shot after grabbing an offensive rebound against Willow Creek on Friday afternoon.
Greg Price
Vauxhall Advance
gprice@tabertimes.com
The Vauxhall Vikings boys basketball team cruised to the Celtics Invitational Basketball Tournament title this past weekend, which culminated in a 93-66 win over the host Celtics at St. Mary's in Taber.
"We started some of the younger kids and they made a game of it in the first half, but then we put the other guys in. The Celtics were hitting their shots and playing with a lot of energy and made the game fun," said Daryl Johnson, head coach of the Vauxhall Vikings boys basketball team, as the Celtics gave a much more spirited effort than a blowout loss they suffered earlier in River Ridge Basketball League play last week.
The team started off with a double-digit victory over Willow Creek that saw the game in cruise control early as the Vikings dominated on the glass, putting back many easy second-chance points that saw the lead balloon past 20 in the first half.
"They were a lot younger than I expected. They have some quality kids, but most of them looked like they were Grade 10, so we kind of could do what we wanted rebounding," said Johnson, adding it was much the same against J.C. Charyk from Hanna.
"We got up early on them too and they were a quality team. We built a big lead where they pushed back, but held it to around 15 points in the end."
While the Vikings were only sporadically pushed at times throughout the tournament, Johnson noted the tournament title helps with the team's psyche.
"The wins are good just to build confidence, we are still talking about high schoolers," said Johnson.
"Any wins are good wins and helped with the confidence in the team and get on the right track. The next two tournaments will be tougher."
The Vikings are in Medicine Hat for a McCoy/Crescent Heights tournament Jan. 28-30, before heading off to a tournament in Carstairs on the Feb. 5 weekend.
In league play, Senator Gershaw is in Vauxhall next Wednesday (Jan. 27). The Vauxhall Queens girls basketball team plays at 6 p.m. with the Vikings following at 8 p.m.
"In practice, we will definitely be focusing on lay-ups. We've been tracking it a little more closely and we've been missing between 12-15 lay-ups a game," said Johnson. "It's hard to believe, but if we put in even half those, that's an extra 10 to 12 points right there. We will be doing a lot of skill work in practice."