Queens win emotional game for fallen alumni
Posted on March 3, 2016 by Vauxhall Advance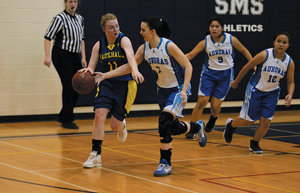 ADVANCE FILE PHOTO.
Greg Price
Vauxhall Advance
gprice@tabertimes.com
It wasn't a zone championship or even league championship for that matter. But for all the adversity the Vauxhall Queens girls basketball team has had to endure these past couple of weeks, Tuesday's huge upset win might as well of been.
Fighting through the mental anguish of a school still mourning the loss of one of its alumni and 2015 Queens MVP in Megan Kondor from a car accident, the team which features Megan's younger sister Aimee had to find a way to play on in River Ridge League playoffs.
Having to play a buy-in game against the St. Mary's Auroras to even participate in the playoffs as the bottom seed due to season-long injury woes, the Queens pulled of a monumental nine-point upset of top-seeded Senator Gershaw Gators (Bow Island) in the semifinal, the same day as Megan Kondor's funeral. The Queens had not previously beat the Gators this season in two meetings, which included a lopsided 40-point loss.
"We went into their gym and beat them. I still don't know how they did it. The kids needed a break, there was the grieving process which was draining," said Allen Matthews, head coach of the Vauxhall Queens girls basketball team, adding Megan's sister Aimee played in the buy-in game, but not the River Ridge semifinal. "We had a moment of silence and they were all in tears and I thought how we are going to do this? We had girls at half-time that were really drained. I didn't know if they could do it, but they kept (going)."
Caught up in the emotion of retelling the game to The Advance, coach Matthews had to pause in the phone interview, choking back tears remembering Kondor and be liking a proud father with how his Queens performed in the face of adversity.
"As you get older, you tend to be more of a softy," Matthews recovered with a chuckle. "They just battled. We play for the league championship today ( against Milk River past press deadline). I don't know how that's going to go, if we got anything left in the tank. We are the smallest team I've ever had out there with the Queens, and it just goes to show you what heart can do for you. They did all the little things that we worked on all year and it clicked. It was fun to watch."
Vauxhall Queens girls basketball team will compete in 2A south zone competition as the seventh seed at Lethbridge College on March 9 at 6:45 p.m. against Kate Andrews Pride.