Vauxhall Vikings looking to defend Tier I league banner
Posted on May 26, 2016 by Vauxhall Advance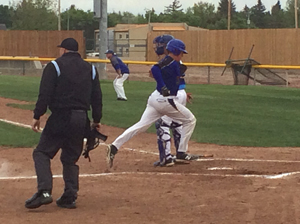 (Photo by Nikki Jamieson) ACE OF BASE: Vauxhall Vikings baseball team will be looking to plate numerous runs in its quest to earn back-to-back Tier I Southern Alberta Baseball League championships.
Greg Price
Vauxhall Advance
gprice@tabertimes.com
The Vauxhall Vikings baseball team have plenty of momentum heading into the Tier I League Championship Tournament this weekend in Medicine Hat, after dismantling the hosts in its last regular-season game, 10-0, last Wednesday.
Medicine Hat had plenty to play for with first place up for grabs in its division, only to tumble to fourth place in the tournament seeding with the loss due to tiebreaker scenarios.
"They put their Grade 12 best pitcher against us who had earlier thrown a no-hitter (against Crescent Heights). We jumped on him right away with four in the first inning and three in the second and didn't look back from there," said Rob Virginillo, head coach of the Vauxhall Vikings baseball team.
"We just lit him up, anything in the zone we hit."
The Vikings belted out nine hits with Hunter Johnson registering three of them in his hitting clinic.
The Vikings offence was aided by the strong pitching performance of Blaise Unruh, who fanned eight batters on the way to a complete-game effort.
"Blaise had then off balance with his breaking stuff and we had good defensive play behind him. It was a good all-around game," said Virginillo.
Some bad blood exists between the two teams from last year's championship that carried over to last week's contest.
"We 10-runned them in the final last year where we got in a bit of a pissing match with a couple of players and it happened again. There was a little animosity there and once we got ahead, they were not happy. Going up 7-0 after two innings, it completely deflated them," said Virginillo.
"It's good to go into the championship on a high note, but we still got into a couple of arguments where it looked like the benches were going to clear. But I told the guys we have to drop this. There's a very good chance we will play them again and being in Medicine Hat, you know things will go against us, so we have to keep our composure."
The Vikings play this Friday in Medicine Hat as the home team as the number-two southeast team against High River who is the number-three northwest team, although the way the Vikings have played this year, Virginillo joked perhaps the Vikings should be visitors.
"It makes me wonder if we should be visiting team all the time, because we seem to fall behind when we are the home team, but when we are visiting, we score a lot of runs early," said Virginillo with a chuckle.
F.P. Walshe (Fort Macleod), Eagle Butte, Brooks, Matthew Halton (Pincher Creek), Highwood High (High River), Medicine Hat High and Magrath along with Vauxhall will be vying for Tier I banner bragging rights with the championship game at 4:30 p.m. on Saturday.
Virginillo stressed no team will be taken lightly.
"We have to throw strikes and get our hits and go from there. We have enough pitching, I think we will be fine. It's a matter of who do you want to pitch against who. Would you pitch Blaise against Medicine Hat again against the same team he just pitched against a week ago, so they have got a look at him," said Virginillo.
"It's a defensive challenge too, because some teams run more, and do hit and runs and bunts. We have to be on our toes and ensure teams do not get runs they shouldn't be getting. Every team has won games and every team has a dominant pitcher. Everyone is up to play. Capitalize on their mistakes and keep ours to a minimum. That's usually what it comes down to."