Jets soar with Blue Jays royalty
Posted on September 22, 2016 by Vauxhall Advance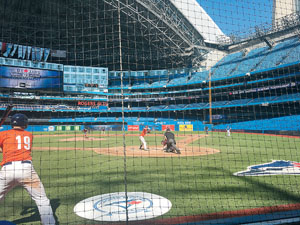 (Photo submitted by Les McTavish) JAYS DAYS: Ten Vauxhall Academy of Baseball Jets players competed in the Tournament 12 in Toronto last week, being put on various teams. Uniquely enough, there was a game situation (left) where Jets Garrett Nicholson (pitching), Brett Mercier (catching) and Damiano Palmegiani (hitting) were all involved in an at-bat.
By Greg Price
Vauxhall Advance
gprice@tabertimes.com
As the Vauxhall Academy of Baseball Jets look to fly the friendly skies for a successful season for the 2016/2017 year, if this past week proved anything, it is that many different players are capable of piloting the plane.
The academy was in two places at once as several players attended the Tournament 12 in Toronto while others battled the Prairie Baseball Academy, and were victorious in the process being shorthanded.
Ten Vauxhall Academy of Baseball Jets were at the Toronto tournament with 12 left to play the Prairie Baseball Academy.
"They played the Prairie Baseball Academy this past weekend, and were pretty successful, winning 9-5. That really shows the depth of this team," said Les McTavish, head coach of the Vauxhall Academy of Baseball. "They did very well despite being shorthanded."
The T12 tournament in Toronto is a showcase of Canadian baseball talent, with star-studded ambassadors of the game like Roberto Alomar, Devon White and Carlos Delgado coaching along with McTavish on various teams.
"The tournament follows in the name of Hall of Famer Roberto Alomar. They bring in the top 160 players from across the country, and put them on various teams to play at Rogers Centre over five or six days and they do a pro workout," said McTavish.
"It's a showcase event. It's more than just winning or losing. It's taken off, it's now in the fourth year and adds a lot of exposure to players. There's 20 to 30 college scouts, every Major League Baseball team is represented. It's an exciting venture for the kids where you get seen and there's scholarship opportunities."
Coming off the heels of the Tournament 12, McTavish learned on Wednesday that five players on the Jets have qualified for Team Canada.
"We are happy with our overall group. We are young and inexperienced in certain areas, but we are really happy with the work ethic," said McTavish. "We are optimistic, but they have to get more physical. But, we are very optimistic with how things are progressing."
Vauxhall Academy of Baseball Jets are off to Kelowna today for a tournament.