Queens host home tournament
Posted on October 13, 2016 by Vauxhall Advance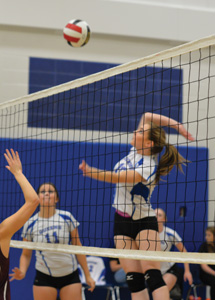 TIMES FILE PHOTO.
By Greg Price
Vauxhall Advance
gprice@tabertimes.com
A young Vauxhall Queens girls volleyball team squad managed to make it to the 'A' side of playoffs at its home tournament before eventually bowing out in a competitive match against eventual champions McCoy.
"It was a good tournament with a lot of good teams there. It was a tournament where you didn't have any free games. You had to go out and play your best the entire time to earn wins which was good to see," said Scott Reiling, head coach of the Vauxhall Queens girls volleyball team. "Right from the first game there was that zone type of pressure where you knew dropping a set could mean the difference from being in the 'A' side and the 'B' side."
With a six-team round robin field, the top three teams after pool play for the championship while the others are regulated to the consolation side.
"There really wasn't much of a difference. For instance, fifth-place Kate Andrews and first-place McCoy," said Reiling, adding the Queens battled their way through pool play and clinched an 'A' side invitation in playoffs with a win over Fort Macleod in its last match of pool play.
"If we didn't win that, we would have been in a three-way tie with Chinook JV, Kate Andrews and us and it would have been full calculator figuring out all the tie-breakers," said Reiling. "That was a a good win for us."
The Queens playoff match against McCoy presented match up problems that Vauxhall struggled with.
"They are big right across the front. So it's not a case of just focusing on their best hitter. They had a ton of hitters. And with our youth, we are still battling inconsistency at times," said Reiling. "There are times we play absolutely out of our minds for 20 points and then we start making unforced errors for 10 or 12 points and then pick it up. At times it feels like a roller coaster ride. But when it's good, it's really good."
The Queens led McCoy in the start of its first set, before the opposition eventually clawed back to take the game. McCoy went on a big run to star the second game where it was Vauxhall clawing back, but never being able to close the gap completely.
"It got to the point where it was side out, side out, side out, but we couldn't build any continued momentum before they closed out the match," said Reiling. "But I was quite happy with our overall results. I wasn't quite sure with the calibre of teams that were coming, with where we were going to fit. I was concerned we could be right at the bottom of the pile. Every week we are getting better and we can see that. Teams like Chinook JV knocked us out earlier (in the year) and then we turned around and beat them. It's good for the girls to see that; that we are getting better. We beat F.P. Walshe again and they are probably the favourite in 2A."
The Queens are at the Double Blue Volleyball Tournament this weekend in Taber, starting off with a noon match against host St. Mary's Auroras on Friday. The team then plays County Central at 2:30 p.m., followed by a 5 p.m. match against Bassano.