Vikings plunder tournament title
Posted on December 22, 2016 by Vauxhall Advance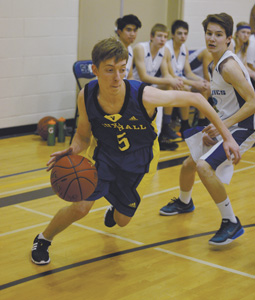 (Photo by Greg Price) DRIVING LANE: Callum Vanden Dungen of the Vauxhall Vikings varsity boys basketball team beats his St. Mary's Celtics defender off the dribble during River Ridge Basketball League play on the road.
By Greg Price
Vauxhall Advance
gprice@tabertimes.com
It was a seesaw battle with St. Joe's from Brooks for the Vauxhall Vikings varsity boys basketball team, who eventually emerged victorious in the championship game of the Kate Andrews invitational this past weekend in Coaldale.
"It was a very interesting game. We got up on them by about 15 at half. In the second half they closed it all the way back down with a tie game in the third quarter. But we ended up winning it by nine points," said Daryl Johnson, head coach of the Vauxhall Vikings varsity boys basketball team of the 76-67 championship victory.
"There was a point that we totally lost our momentum. They hit a couple quick threes and then we turned it over a couple times where they had 10 points on us in under a minute."
Johnson quickly called a time out to settle the troops and make some adjustments as the Vikings rediscovered their mojo to power themselves to the win.
"Even with a 20-point lead it's not safe, it can go either way. We got some different players in and got control of the ball at least. The turnovers were the problem where we were giving it back to them just as quickly as they were scoring," said Johnson.
"The kids buckled down and they weathered the push back. They knew it was coming, St. Joe's is a solid team. We were able to get really balanced scoring where four of our five starters were in-between that 16-23 point range, so they couldn't just stop that one guy. Earlier in the tournament we were more unbalanced with our scoring."
Earlier in the tournament, the Vikings were in tough against arch-nemesis Livingstone in a 10-point win to start its tournament run.
"Livingstone is still going to be good this year. Last year they were a bit of our nemesis. We couldn't get over the hump and beat them," said Johnson.
The Vikings got up close and personal against the W.R. Myers Rebels from Taber in its semifinal, as a lot of physicality was shown to propel the Vikings to the championship game in a 25-point win.
"It was a really physical game. The refs let the kids play which I don't mind," said Johnson.
Two tournaments into the season and two tournament wins has Johnson excited about the potential of his squad this year as it builds towards 2A zones in March.
"We are definitely going to be more balanced than we were last year, which is good. Last year, we had some games where there were a lot of shots going to only a few players," said Johnson.
"We are spreading it around a lot more. So if someone's not going (offensively), it's not as a big of a battle as it was last year. The team is looking good, I think we are going to have a good season."
Vauxhall Vikings return to River Ridge Basketball League action on Jan. 11. The team beat St. Mary's Celtics 93-35 last Wednesday on the road in Taber.