Queens battle tough at zones
Posted on March 16, 2017 by Vauxhall Advance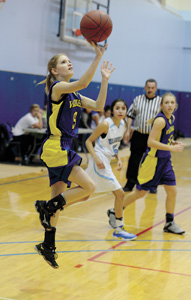 (Photo by Greg Price) JUMP STREET: Jordan Bell of the Vauxhall Queens girls basketball team attempts a jump shot against Kainai Lady Warriors at Lethbridge College last Thursday.
By Greg Price
Vauxhall Advance
gprice@tabertimes.com
Vauxhall Queens girls basketball team proved they had plenty of fight in them at 2A south zone competition last week at Lethbridge College.
Despite going in as the fifth-seed, the Queens almost pulled out the bronze-medal win against second-ranked Picture Butte on Saturday in a 68-65 loss, as both squads were tied at 45 after three quarters where the Queens were minus some post players due to club volleyball responsibilities.
Jordan Bell and Maegan Vissers both had 15 points apiece and Aimee Kondor had 11 points. Maggie Thiessen rounded out the double-digit scorers with 10.
"We felt we were in the mix there. I don't know if anyone else thought that, but we did. And we proved that," said Allen Matthews, head coach of the Vauxhall Queens girls basketball team, apart from top-seeded Immanuel Christian who dismantled everyone, with the lowest spread of victory being 51 points in is gold-medal game against Kate Andrews.
The Queens were put into the bronze-medal game after dropping a 83-29 game to powerhouse Immanuel Christian. Analiese Vissers notched 13 points.
The Queens highlight game of the zone tournament came in a nail-biter of a 68-64 win over fourth-ranked Kainai in overtime last Thursday. There were plentiful swings in momentum on both sides with both squads going on mini runs, but never ever leaving its opposition in the dust.
Vissers had 19 points and Bell hit for 16 points. Kondor poured in 14 points.
"We've had a lot of adversity this year. We aren't deep and we are young and we were injured a lot. Four of my five starters fought injuries all season long," said Matthews. "The girls pushed through a lot this year and they were fighters all year. I got a little Grade 11 guard (Jordan Bell) where after games she had a had time walking. They fought for everything they got this year. Nothing came to them. We proved we more than belonged."