Banner town in Vauxhall
Posted on March 23, 2017 by Vauxhall Advance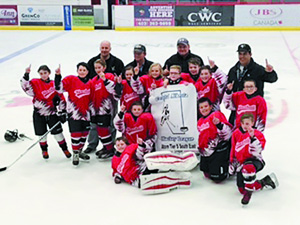 (Photo Submitted) SEASON'S GREETINGS: The 2016/2017 hockey season proved a very successful one for the four programs there were features this year which included pre-novice, novice, atom and peewee Sabres programs.
By Greg Price
Vauxhall Advance
gprice@tabertimes.com
To say it will be a banner moment when the Vauxhall Minor Hockey Association holds its year-end awards banquet next Wednesday, will be an understatement.
Of all the teams that could qualify for playoffs that the association has squads rostered in, each and every one brought home a league championship banner.
Local sports historians have been checking around and, at least in modern hockey history, do not think it has ever happened before.
"It's very rare. I've asked around a bit and people have said maybe one or two (banners) in one year. But this is all three of our teams that were in playoffs," said Rodney Huvenaars, president of the Vauxhall Minor Hockey Association, as the novice, atom and peewee Sabres teams all took banners, with the pre-novice team not having playoffs at its young age.
As with any small rural area, numbers have had its ebbs and flows in recent years, as Vauxhall has not been able to roster bantam or midget-level teams in recent seasons. Players in these age categories have either qualified for  "AA" or "AAA" programs or must travel to their closest hockey association to play on teams.
But while the numbers may be small for the Vauxhall Minor Hockey Association, they have proven mighty as the triple banners attest. The novice Sabres won its Spud League banner while the atom and peewee Sabres proved top dogs in their respective Central Alberta Hockey League divisions.
"It has been several years since we've had bantam or midget, where some of the kids go to higher levels," said Huvenaars. "Then we don't have enough to field a team. The coming season we will have pre-novice again, and atom and peewee. Bantam I'm not sure and novice it might be too small to have a novice team."
The peewee Sabres only had 13 player son its rosters, but still cruised against its competition on the way to its banner as each player got plenty of ice time. The novice and atom teams went into playoffs as underdogs, but peaked at the right time in improving hockey skills.
"The peewees were strong all year and the other two teams got better and better as the season went on," said Huvenaars. "Every game the kids got better and better."
Vauxhall Minor Hockey will celebrate its accomplishments on March 29 with awards banquet starting at 6:30 p.m. at the Vauxhall Community Hall.