Vikings come flying out of the gate with dominant 4-0 start
Posted on April 13, 2017 by Vauxhall Advance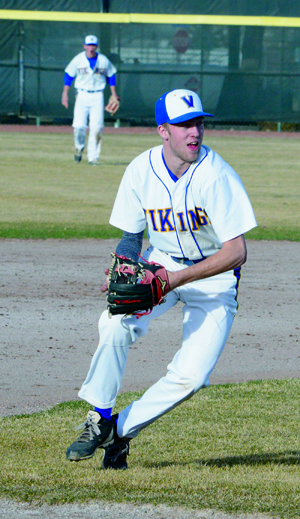 (Photo by Greg Price) DIAMOND DANDY: Jayden Bexte of the Vauxhall Vikings corrals a grounder and looks to throw to home base during Southern Alberta High School Baseball League play at Jets Stadium last Wednesday against Crescent Heights Vikings.
By Greg Price
Vauxhall Advance
gprice@tabertimes.com
The Viking battles early on for Vauxhall's high school baseball team have all resulted in victories, as the veteran-laden team builds towards hosting the league championship.
The Vauxhall Vikings have proven battle tested with four games already on the young diamond season, all being lopsided victories except for one.
The Vikings kicked things off with an 11-3 victory over Crescent Heights Vikings, as the two teams with the same moniker battled close before Vauxhall eventually pulled away.
"They gave us more of an earlier scare and test than we thought, because the last few years it has not been very close. It was good to have a relatively close game for a good portion of it and play seven innings," said Rob Virginillo, head coach of the Vauxhall Vikings baseball team. "You are getting guys to throw in live action, you never know what is going to happen. We have probably practised less than in many years, due to weather and due to the indoor facilities not being available. We didn't know if we were going to be ready, but we have a lot of veteran baseball players this year that I can trust."
The Vikings proceeded to play a two-game set in Medicine Hat on Saturday against Maple Creek and Eagle Butte, a feature that has been done the last couple of seasons to cut down on travel and condense games in a short season where weather conditions can become a factor.
The Vikings 10-runned Maple Creek before playing an epic 1-0 victory over Eagle Butte in a pitching and defensive duel.
"It was probably one of the best games I've seen in a long time. Brady Howg pitched the whole game and struck out eight guys and gave up two hits," said Virginillo. "We made great plays, it was a well-played game throwing strikes. We bunted guys over, it was a well-executed game. To play such a lopsided game right before and lose some focus, and then come right back and perform the way we did was awesome. We were missing two of our Grade 12 starters too, and other people stepped up and played well."
The Vikings concluded its win streak with a 12-2 victory over the W.R. Myers Rebels at Ken McDonald Memorial Sports Park on Tuesday.
Depending on weather conditions, the Vikings are scheduled for a road game against Foremost today as the Vikings continue to look like one of the championship favourites when the dust settles at the end of the season in late May.
"I've got seven Grade 12s and five of them have played with me since Grade 9, where one took a year off. I have 12 returning players out of 14," said Virginillo. "It's nice to have good ball players, but I hope they don't get over confident.
The Vikings have Easter week off before returning to action on April 26 with a road game against Brooks.
"When we get back we have Brooks, McCoy, Medicine Hat High, Chinook in a tournament. We are going to have some pretty tough games," said Virginillo.