Barrel racers bolting to the Taber Agri-Plex
Posted on April 27, 2017 by Vauxhall Advance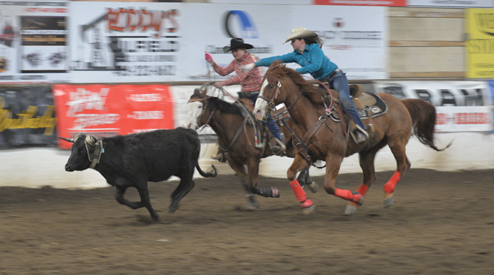 (Photo by Nikki Jamieson) RODEO SEASON: Shayanna Scheller and Alice Tanner chase down a steer during a team roping event at the high school rodeo hosted over the weekend at the Taber Agri-Plex.
By Greg Price
Taber Times
gprice@tabertimes.com
The Taber Exhibition Association is trying something new this year with the first ever Bolt for Buckles event.
Buckles will be up for grabs along with an open jackpot of $3,000 for the barrel racing extravaganza.
"We've got some riders from Saskatchewan, from B.C., pretty much any neighbouring province east, west and north. Right now we have about 125 pre-entries," said Kristen Nickolson, organizer for Bolt for Buckles, and a board member of the Taber Exhibition Association. "I'm hoping though we will hit about 150 but who knows. The pre-entries closed today (April 21), but they can enter the day of so we may get quite a bit more."
Nickolson sees the pilot project of the TEA as some perfect timing for competitors who are getting the itch.
"This time of the year, a lot of girls are starting to want to gets runs on their horses for rodeo season, and they still sort of want to run inside with the weather just turning nice," said Nickolson. "They want to get geared up for rodeo."
Bolt for Buckles starts at 10 a.m. on Sunday, April 30, at the Agri-Plex. On Saturday, there is a warm-up jackpot at 1 p.m. The event is free to the public for spectators.