Spurs' bats help power tournament wins
Posted on May 25, 2017 by Vauxhall Advance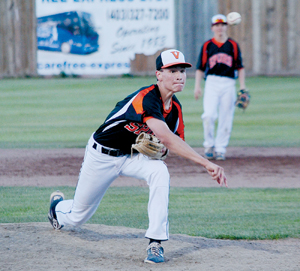 (Photo submitted by Garrett Simmons) MOUND ABOUND: Kaden Fujita of the Vauxhall Spurs delivers a pitch against the Lethbridge Lakers at the Ron Matthews Memorial Tournament in Lethbridge.
By Greg Price
Vauxhall Advance
gprice@tabertimes.com
While the final roster for the Vauxhall Spurs is still a work in progress, there were plenty of positives built for the warm-up Ron Matthews Memorial Tournament played in Lethbridge this past weekend as a pre-cursor to the start of the American Legion 'A' regular season next week.
"I thought the tournament went above and beyond what I was expecting from a baseball standpoint. Watching these guys play high school baseball, I knew they could play, but the tournament was fun to watch and these guys are going to be fun to watch all summer. I'm looking forward to what the Spurs have to offer," said Ronnie Deck, head coach of the Vauxhall Spurs. "The guys that were on the bubble made the decision brutally difficult, they all played well and everyone brought something to the table. In game situations, they all responded with a lot of positive things that helped us win or change the momentum of the game in our direction."
What the Spurs brought to the table was a 3-2 record, playing the likes of the Lethbridge Lakers, Fort Macleod Royals, Medicine Hat Knights and Lethbridge Miners.
"What stood out for me with the veterans was the hitting. If we stick with the same mindset we showed, with the approach of selflessness and forgetting about the stats and the numbers, we are really going to be a good offensive team this year," said Deck.
The Spurs put up plenty of offensive stats in its wins, which helped the pitching staff during those games relax on the mound and work on their repertoire.
"Our hitting took over those games in the wins where we won in commanding fashion. I don't want to take anything away from our pitching. With the game that we won and lost, we threw a ton of strikes and pitchers attacked the zone," said Deck. "In the three games we won, the offence really stood out and took over and whoever was on the mound, they did more than enough to keep the offence in the position to do that. When you know you can pitch to contact and give up a hit or two or a run or two and know the offence has your back, pitchers tend to be a lot more aggressive and they let go of the stress and anxiety of that 'Man, I can't give up a run', and they take the ball and attack hitters. They were locating and changing speeds and throwing their secondary pitches at the right time."
As the new coach of the Vauxhall Spurs this season, Deck noted he adjusts his managerial style to the talents he sees in front of him, instead of forcing a one-size-fits-all philosophy.
"The one thing that stuck out to me with these guys as far as style and the type of team we are, is these guys are really together. When you have a team that is really together and fighting for each other and playing the game for their teammates, I think the sky is the limit for a team like this," said Deck.
"It's hard to teach that, and I wanted to sit back and see if they were like that this weekend. I didn't put very much on their shoulders as far as dictating what I wanted done. I wanted to see what they did instinctively and they played a game that was very team-orientated. I don't think this is a team where I am going to have to hit them with overkill with every little aspect. I'm going to let them play and they are going to be calm and relaxed doing their thing. These guys have a lot of baseball acumen and IQ."
The Spurs kick off its 2017 American Legion 'A' season next Wednesday with a home opener doubleheader against the Lethbridge Miners with games at 5:30 and 7 p.m. at Jets Stadium, where Deck confirmed the Spurs will likely be going with a 15 or 16 player roster with some last-minute changes that may be happening.
"We have a couple of guys that are injured that may come back and we have a guy that pitched this past season in college who may come back and help us, he's still making the decision," said Deck. "From a managing standpoint, 15 guys makes it easier for everybody and the kids get more playing time."