Band of brothers take banner
Posted on June 1, 2017 by Vauxhall Advance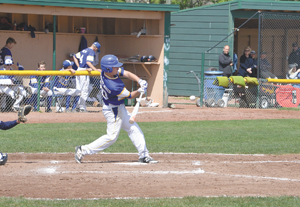 (Photo by Trevor Busch) MARCH TO VICTORY: Tanner Brummelhuis takes a hearty cut at a pitch during the SAHSBL Tier 1 Baseball Championship at Jets Stadium in Vauxhall last Thursday versus the J.T. Foster Knights.
By Greg Price
Vauxhall Advance
gprice@tabertimes.com
The final chapter has been written on the Vauxhall Vikings, and in many different ways, the story-book ending has left many readers satisfied.
The Vauxhall Vikings won the Tier I League Championship on Friday evening at Jets Stadium with a victory over Brooks for the veteran laden team that has seen plenty of success over the years.
"I knew we were the stronger side (southeast) and it proved that with each of the teams one through four on our side winning their first game. All of our teams played in the semifinal," said Rob Virginillo, head coach of the Vauxhall Vikings baseball team.
Playing loose after a heart-stopping semifinal against Eagle Butte, the Vikings managed to spray double-digit hits all over the field against Brooks in an 8-6 victory.
"We rocked the ball, we made only one mistake on defence. We were leading 8-4, with them scoring two in the top of the seventh with two out, but no real big concern," said Virginillo. "They got a couple of hits, our pitcher was getting tired, but Brady Howg pitched the whole game and he wanted to finish. Really, there was nothing that was in jeopardy, we got the lead and kept it. It was a nice way to end the season, at home with seven Grade 12s, and six of them had played with me since Grade 9 and won a championship in 2014 and 2015 as well."
Marking the end of the Grade 12s' high school baseball career, it marked an exclamation point on Virginillo's high school coaching career as well. After 15 seasons with the Vikings program, Virginillo is stepping down.
"It was a good way for me to end it too with that group of Grade 12s that I had for so long," said Virginillo.
That included a memorable 2014 season, where that brash handful of Grade 9s helped unseat juggernaut Erle Rivers.
"That was the first championship we had in 10 years, and we beat Erle Rivers who had won three years in a row at the time," said Virginillo of those kids who got to enjoy three championship banners in their high school baseball tenure. "We ended a dynasty, and I told the kids at the time that we had a chance to be able to start our own."
The Vikings started its Tier I league championship run with a 12-2 win over J.T. Foster Knights from Nanton on Thursday at Jets Stadium.
"That was to be expected. We were able to throw just a couple of guys with the minimum limits which allowed them to come back the next day," said Virginillo.
It was the semifinal against Eagle Butte on Friday that almost sunk the Vikings' ship as Virginillo was having flashbacks to last year where one bad inning stopped the Vikings in their tracks to earn a banner.
"We were down 5-1 after two innings. It was one of those bad innings where our team couldn't make a play. It was a little nerve racking because that's what happened to us last year where we got down and we didn't come back," said Virginillo. "This time, we did come back and we kept our heads in it and kept chipping away. Thank goodness it was the second inning where we had a bad inning, it gave us time to come back."
Reed Odland hit a three-run home run in the bottom of the sixth inning to tie the game at 10-10 where Virginillo and the Vikings in the dugout knew their destiny was about to be re-written from last year.
"Once he did that, we knew we were going to win. Whether it was the next inning, or the inning after that, we believed we were going to win," said Virginillo.
The game ended in anti-climactic fashion as a relief pitcher threw a wild pitch in his second pitch of the game, over the catcher's head with the bases loaded, in the bottom of the seventh inning for the walk-off run.
"Even if we didn't get that (and had to go to extra innings), they were out of pitching. They used their best guy in the first game, their second-best guy the second game and they had nothing left after that," said Virginillo. "The game was tipping in our favour. "