School spirit helps fuel Jets to victory during Spirit Week
Posted on September 14, 2017 by Vauxhall Advance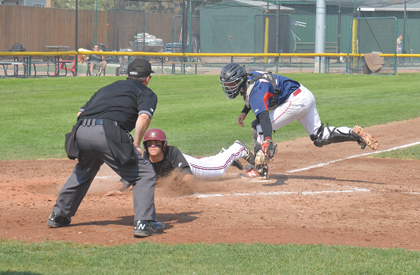 ADVANCE FILE PHOTO.
By Greg Price
Taber Times
The Vauxhall Academy of Jets Baseball team have blasted off to another baseball season where expectations are always high.
"It's a good group. We returned a lot of solid players. We returned our entire infield from a year ago. That certainly helps," said Les McTavish, head coach of the Vauxhall Academy of Baseball Jets.
"We also have (returning) a couple of good arms and outfielders. We are excited about our new crew, too. We have some balance offensively."
The Jets had plenty of fan support at its home opener last week as schools were celebrating Spirit Week, and the Jets earned a 12-4 win over Prairie Baseball Academy, belting out 17 hits in the process.
Offensively, the Jets were led by Liam Vulcano who was 1-for-3 with a double and an RBI. Owen Harms was 2-for-4 with two RBI. Damiano Palmegiani was 2-for-5 with a two-run home run and three RBI. Martin Vincelli-Simard was 2-for-3. Ty Penner was 2-for-5 with two doubles and two RBI. John Vulcano was 3-for-3. Cooper Jones was 4-for-4 with a double and an RBI.
Garrett Hawkins, Thomas Little, Adam Macko, Chase Florendine, Reese Keller, and Matt Wiggins threw, Jaden Griffin and Kaiden Cardoso combined efforts on the mound to keep arms untaxed on the first game of the season, combining for five strikeouts, four walks and seven hits for the victory.
The Jets then planned another four games against PBA at home at Jets Stadium where the squads split both days. The Jets won 6-2 and lost 10-6 on Saturday, and winning 14-8 and losing 6-5 on Sunday.
"We have the makings of a very, very solid group. We will see, you never really know until you get part way through the season and see these players at game speed," said McTavish.
There are 15 players and McTavish that are in Toronto this week for the Tournament 12 in Toronto. The Jets play in a Kelowna tournament starting on Sept. 23.
The Jets roster is 22 players deep this season with players from Alberta, Saskatchewan, Manitoba, British Columbia, Ontario, Quebec, Nova Scotia and New Brunswick.