Queens on massive win streak in tournaments
Posted on October 26, 2017 by Vauxhall Advance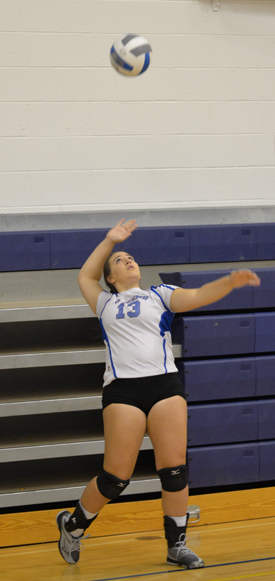 HEADS UP: Cassie Unruh unleashes a serve at the Double Blue tournament in Taber on Oct. 13. The tournament has been part of the Queens' 54-straight set win streak. ADVANCE PHOTO BY: COLE PARKINSON
By Greg Price
Vauxhall Advance
The Vauxhall Queens girls volleyball team has had a recent history of success in 2A volleyball.
But this season, even for the Queens, they are in some rarefied air having pulled off a streak of 54 straight set victories, culminating in a tournament championship in Picture Butte this past weekend.
"I've coached a lot of years, and that's not easy to do because eventually you have a flat game or a team comes out and plays really well against you," said Scott Reiling, head coach of the Vauxhall Queens girls volleyball team. "We are not even talking about losing a match, we are talking about not losing a set in a very long time. We've had a good push where we are playing very consistent and even when we are a little off, they seem to find enough to get themselves through that game."
Reiling threw that stat out to the Queens after its tournament victory in Picture Butte, where the players jokingly said the coach has jinxed them. But with how consistent the Queens have been playing, you can forgive Reiling for not being superstitious.
  "I'm not worried about that at all, they just play. They look really relaxed, they rarely hit the panic button," said Reiling, adding he believes the team is an impressive 41-2 in match play overall for the season. "Some teams get frustrated where we have that mental edge where we've had a good program for a few years now and they are used to losing to us. You get that mental block where maybe deep down they don't know if they can win. Saying that, the really strong programs are there to knock you out, but we are up for it and with this team, it seems come playoff time, we go to another level."
Staying aggressive and rarely giving up free balls has helped in the Queens dominance where the Vauxhall team has not been pushed in finals of their tournament wins. Not letting go of a string of sloppy points puts pressure on the other team. A set score of 25-18 has been the closest in a championship final match in tournament victories in Picture Butte, Taber, Vauxhall and Olds, according to Reiling.
"High school volleyball is so much about unforced errors and I joke with the girls that you usually just have to score 12 points against a good team, you don't have to score 25 because they'll give you 13 by just missing serves, hitting balls out the back, or hitting them into the net," said Reiling. "That is not the case where when we get really focused, we keep it within five unforced errors."
The varied attack that the Queens have where kills can be registered with authority from all over the floor is what makes the highlight reels amongst fans. But it is those little things that have pushed the Queens to greatness this year that may go unnoticed by the casual fan according to the man at the helm.
"I have five girls out there that all hit the ball hard that we are not afraid to set (up) any of them at any given time. Our middles get better every week where they are just crushing balls now," said Reiling. "At the end of the day, that's what people see and what they talk about. But, what they don't realize is that it is our ball control and defence that makes us such a great team. Defensively, off our serve/receive and our serving is so strong. Teams are focusing on our hitting, it helps us score points. But, we are not shanking balls off serve/receive and we are digging everything that comes over on our side that has helped us win easily."
The Queens will look to continue its win streak at the Monster Smash in Vulcan this weekend. The Queens will see a lot of teams they have played in previous finals at the tournament that has a huge field of 16 teams.
"There are good teams there, but they will be a little scattered all over the place with a 16-team field," said Reiling. "We are going to have to play well. We are going to have to beat probably three decent teams to win that tournament."
As the Queens continue its impressive march to zones, winning with such dominance, it will be interesting to see for Reiling on how the Vauxhall squad responds to its first road dump during the streak.
"There's always that concern but these girls compete. I won't say they never get rattled, or all six girls are having great games all the time, but they compete and they won't let themselves get bullied," said Reiling. "Going forward, every year I have that little bit of anxiety that when you have been that dominant, what happens when you come across a hot team and you are a little flat? But I like what I have right now. I like how hard they work in practice and we continue to get better every week which is exciting to me and probably our biggest road block right now is ensuring we are healthy, and that's all we can really do."