Queens continue reign on court
Posted on November 9, 2017 by Vauxhall Advance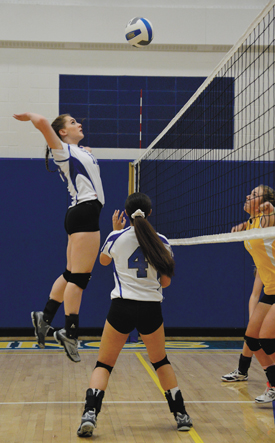 ADVANCE FILE PHOTO.
By Greg Price
Taber Times
The streak continues and so does the dominance of the Vauxhall Queens girls volleyball team in the south region.
Check off two more tournament titles these past two weekends to go along with a prominent set win streak.
"We are up to 84 straight sets now. The girls are keeping track and it's becoming a big deal for them," said Scott Reiling, head coach of the Vauxhall Queens girls volleyball team.
The Queens participated in the Monster Smash in Vulcan on the Oct. 28 weekend and picked apart its opposition with precision.
"They were very business-like and probably didn't play anyone strong until the semifinal," said Reiling, adding the team played F.P. Walshe in the final, beating them 25-12, 25-11. "We ran away with it and frustrated them that they couldn't score points. They are a pretty good team, it's just defensively we weren't letting them score points and we were hitting balls at them. When finals look like that, I am quite content."
This past weekend, the Queens were in Brooks and faced an interesting dynamic in a tournament championship final against 1A Cremona.
"They have a very legitimate Team Alberta girl on their team and very, very strong players and surrounded her with some good players," said Reiling, adding the Queens were shell-shocked at first in the final, trailing 10-2 in the first set. "It wasn't that we weren't playing well, it was them digging everything and blocking and their girls put some very good shots away."
A time-out was called and the Queens regrouped as they varied their attack.
"The girls didn't hit the panic button. Every hit was going towards position six and guess who is back there? We are turning this into a beach volleyball game and we had to stop that," said Reiling, adding the Queens would go on to win the set 25-19, followed by a 25-12 set win to take the championship. "We had some great attacks there, we were just hitting the same spot, over and over again."
The Vauxhall Queens now have a weekend off as it prepares for 2A South Zone competition at Lethbridge College, Nov. 16-18.
"I'm sad to see the season is almost over. It's just so professional and business like where the girls work, work, work. Are we content at where were are at? Absolutely not," said Reiling. "We are at a stage now where I am not sitting here as their coach, but as someone who wants to beat us and figuring out where our weaknesses are and where I would attack us. This is where I would attack us, let's fix it, and they are fixing it in practice."
The Queens have 5:30 and 9 p.m. matches on Nov. 16 to kick off its 2A South Zone run at Lethbridge College in which the Queens are the top seed in a field that also includes Magrath, Kate Andrews, Raymond, F.P. Walshe, St. Mary's Taber, County Central, Immanuel Christian, Winston Churchill, Kainai, Medicine Hat High and Crowsnest Pass. The team continues its march to a banner on Nov. 17 with matches at 2 and 6:45 p.m. The zone championship match will be played at 6:30 p.m. at Lethbridge College on Nov. 18.
"The girls have figured it out. We have to go clean at zones and then win our first match at provincials to get to 100 (straight sets). They are focused on it and are going for it. I told them I'd be doubling down on you, too," said Reiling.