Queens nearing century mark in win streak
Posted on November 23, 2017 by Vauxhall Advance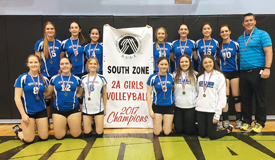 POWERHOUSE: Vauxhall Queens girls volleyball team are all smiles after not dropping a set on the way to its 2A South Zone banner championship win at Lethbridge College on the weekend. PHOTO SUBMITTED.
By Greg Price
Vauxhall Advance
The Vauxhall Queens girls volleyball team start its provincial run today with plenty of momentum.
The squad buzzsawed its way through its 2A South Zone competition this past week at Lethbridge College to keep its impressive set win streak alive.
"The streak is still alive. We are up to 96 now," said Scott Reiling, head coach of the Vauxhall Queens girls volleyball team. "It was pretty smooth sailing. They went in there knowing what they wanted. I said to them afterwards, I couldn't be more proud. They were like machines, they didn't hit the panic button when things didn't go well. They didn't look nervous at any time during the tournament, they went out and played the game the way they have all year."
The irresistible force that has been the Queens this year in 2A southern Alberta volleyball play culminated in the clean sweep of its zone opponents including 25-18, 25-13 against Magrath Pandas in the zone banner championship match, while also beating Raymond Comets in the semifinal.
"And it wasn't even that close. The game they scored 13, we missed six serves," said Reiling. "We do serve aggressive, it wasn't we were playing scared. They knew teams were going to score points, but let's just pass it and put the ball away and get the ball back. We were moving along so well, I think I only used two time-outs all tournament long. It was fun to watch."
The hardest match for the Queens came earlier against Fort Macleod in round-robin play in a 25-16, 25-17 victory.
"It felt a lot harder than what the score indicated. We worked really hard for our points that match. They made us dig and dig and dig and they were digging us where there were long rallies, but we were still finding a way to score the points in the end," said Reiling.
The Queens were able to emerge from zones injury free as they make their way to Fairview up north for the 2A provincials and its 12-team field today. First up is a Thursday match against Strathcona Christian Eagles followed by a match against Acme Redmen the same day.
Friday competition includes the Queens battling Vegreville Cougars and GP Vanier Vipers. Saturday's slate involves the Queens competing against Christ the King Chargers to finish off round-robin play as the Queens battle to make the gold-medal game after playoffs at 6:30 p.m. on Saturday.
Teams in the other pool include Spirit River Renegades, David Thompson Voyagers, Rundle College Cobras, Onoway Mustangs, Magrath Pandas and Fairview High Cobras.
"I'm really excited to see what's going to happen now because the pressure is off a bit. Let's see if they have a whole other gear," said Reiling. "They pool teams based off of how your zone has done the last three years. The tricky part is even when we hosted  and last year, first, second and third  came out of the same pool — it's just the luck of the draw."
Scanning the field, it is the Who's Who of 2A provincial powerhouses who have made regular appearances at the big dance of girls volleyball.
"It's the same old, same old. This is our eighth straight year of going to provincials and we are not the grandmothers out of that group. There have been schools that have been going for more years than that consecutively," said Reiling. "Those repeaters are the ones that we are going to battle somewhere along the line. You go to some tournaments where if you serve the ball over the net you get your points. That hasn't been us this year, we've had to do a lot of things right to get those points and get those sets we've won. Even with our win streak, there has been no complacency, they don't know what that looks like. At this point, I'm just sitting back and enjoying the ride and seeing how far we can go at this point. There is no fear at this point."