Vauxhall Queens settle for silver crown at 2A provincials
Posted on November 30, 2017 by Vauxhall Advance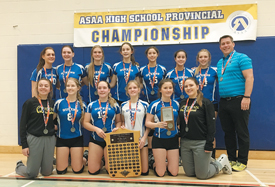 ADVANCE FILE PHOTO
By Greg Price
Vauxhall Advance
All good things must come to an end and so too must the season for the Vauxhall Queens girls volleyball team.
A season filled with many milestones, the team concluded its run this past weekend with a silver-medal finish at 2A provincials in Fairview.
Going into the tournament, the team was on the cusp of winning 100 straight sets in consecutive matches and were able to break that mark in Fairview. The team won all its matches in round-robin play, including victories over Strathcona Christian Academy (25-17, 25-11), Vegreville Composite (25-22, 28-26), Acme High (25-11, 25-13) and Christ the King (25-16, 25-10) to finish first in its pool.
"Thursday at the start of the tournament I thought we looked as good as we have ever looked all year which was exciting. We won the minimum of four for games to get to 100 and they were against good teams," said Scott Reiling, head coach of the Vauxhall Queens girls volleyball team. "Saturday we played all right, but we were not as good and Sunday morning seemed a long ways away. It was a lot of days in hotels and a lot of miles traveled and I felt as the week went on they started to wear out. You see that every year with teams that have to travel a lot. It was like when Spirit River came down to me when we hosted. You are spending five nights in hotels, you are eating food you don't normally eat, sleeping in beds with other players. It seemed like their tanks were getting lower and lower as the days progressed."
The Queens first real adversity of the provincial tournament came in the semifinal against Vegreville Composite as the Queens had to constantly claw back on the way to a 21-25, 25-21, 15-9 victory to advance to the gold-medal match.
"Vegreville is a great team that is stacked having a girl off the youth national team and a couple of Team Alberta girls."
"We never seemed to feel like we were in control. Even when we went on some runs, they never panicked," said Reiling, adding the Queens were looking like they would be eliminated from championship contention, falling behind 11-17 in the second set. "Things just turned around then and it seemed like an adrenaline rush for the girls."
The Queens found themselves down once again in the decisive third set, 2-7, where once again the Queens went on another run.
"They just couldn't stop us, the girls were jumping around and the gym became electric. It was a big, emotional win for the girls who showed they wouldn't quit despite not playing their best volleyball. I couldn't have been more proud of how they battled, they refused to lose," said Reiling.
Having only two losses on the entirety of the season heading up to provincials, one of those was against Spirit River which the Queens faced in the provincial championship, eventually losing 15-25, 24-26.
"They just looked more fresh, sleeping in their own beds (being a half hour away from Fairview) and they are a fantastic team to only having three losses on the year as well," said Reiling.
"They had a different approach and they hid their weaknesses well and they never really gave us a shot. In the second match we had them at 23-20 and 24-22, just couldn't score that last point, but had great rallies to get those points. That is a very good team that is every bit as deep as us and a little bit longer and bigger. Hats off to them, they beat us."
Reiling is feeling a little bit of emptiness now that the season is over, not just because of the successes of numerous tournament wins, a 104-set victory streak and a provincial silver medal, but because of the great girls that made up the 2017 Vauxhall Queens.
"It was so much fun, not just because of the wins, but the girls of how hard they worked and how much passion they had for the game and how supportive they were of each other," said Reiling. "It was a really fun season and was I a little sad yesterday and the day before that we didn't have practice? Absolutely. I enjoyed being at those practices and being on the road with them. When you go that long, that hard, a lot of years you think you need a few weeks off. I never felt like that with this group all year. They were just a joy to be around and I think people in Fairview sensed that, too. I lost track of the number of compliments up there. At the end of the day, some teams had girls who could hit harder, were taller or who could pass better, but in terms of team dynamics, this is as good as it gets."