Vikings looking for consistency
Posted on February 8, 2018 by Vauxhall Advance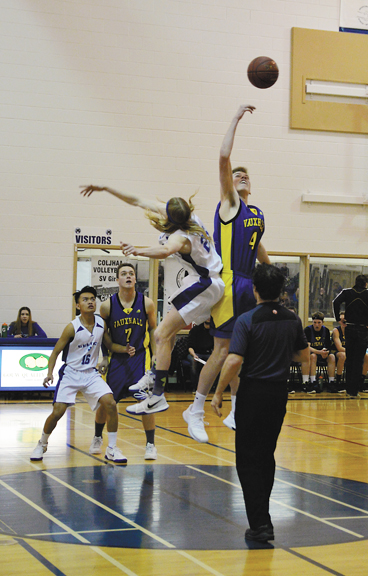 SKY HIGH: Thomas Little of the Vauxhall Vikings boys basketball team wins the opening tip-off against the St. Mary's Celtics in Taber on Monday night. ADVANCE PHOTO BY TREVOR BUSCH
By Greg Price
Vauxhall Advance
gprice@tabertimes.com
It's been an up and down season for the Vauxhall Vikings boys basketball team to date as the squad has hovered around the .500 mark after beating the St. Mary's Celtics on the road on Monday night.
"It has been up and down. Some games the intensity has been fairly good and other games, we've shown up as a team, but we haven't shown up necessarily to compete," said Daryl Johnson, head coach of the Vauxhall Vikings boys basketball team. "It's been a different type of season that way."
One game the Vikings look like world beaters and then another game the Vikings lose to a team they likely shouldn't given the talent levels on paper.
Johnson attributed that partially to a relatively fresh-faced squad in need of some veteran leadership.
"We are a fairly young team with only one Grade 12 this year. Maybe that's making a difference a little bit," said Johnson "It's a whole new squad from last year with the one returning player. It's not usually been a thing, but our competitive level isn't as high as it usually is. But, we are working on it as we get closer to zones."
Johnson saw glimmers of that when the team went to a tournament in Three Hills in which they were 2-2.
"Our last game up there was probably one of our better games all year playing Heritage Christian," said Johnson as the Vikings registered 90-plus point on the scoreboard. "It was high scoring which was good to see. We really competed and they had beat us earlier by two. We knew what they were and the kids were ready to go that game."
The Vikings also avenged a loss to the St. Mary's Celtics with its road win on Monday in River Ridge Basketball League play.
"We won, but it was a tight game. They had one kid that hit like eight threes on us, he was pretty hot," said Johnson as the Vikings managed to overcome the sharpshooter. "Ken (Gabruck) has that team going, I think they'll be a tough out in 1A. They hit the glass pretty hard which is what hurt us the first time, they out-rebounded us like crazy. We did a little better job of that, even though it's still not where I want it to be."
The team played Bow Island at home on Wednesday night with results unavailable at press time.
The team is in a tournament in Warner this weekend. Johnson is still moving the chess pieces around to see exactly what potential the Vikings have this season in an attempt at greater consistency.
"It's the way we have talked all year is we are building to zones and we have to work where we need to be by then. We still have a month of basketball, we have time. But, we got to get everyone on the same page," said Johnson. "We are all not competing at the same intensity."
Johnson has been coaching Vikings basketball for 11 seasons and admits it's just as much of a challenge for him adapting his coaching style as it is for various rosters trying to gel as a team.
"We are basically putting a new team together every year, so our continuity isn't as much as some schools. You have to adjust as a coach and try and find what works for that group. We tried to run a lot of set offences and it seems to have stalled us, more than anything. We've gone back to a motion offence and it worked in Three Hills and then on Monday it didn't look as good. We have some talented kids here. When you see what the team was like last year, maybe some of the kids are saying we can't get to that level, but I still think we can. We just have to keep working."