Jets taken in MLB draft
Posted on June 21, 2018 by Vauxhall Advance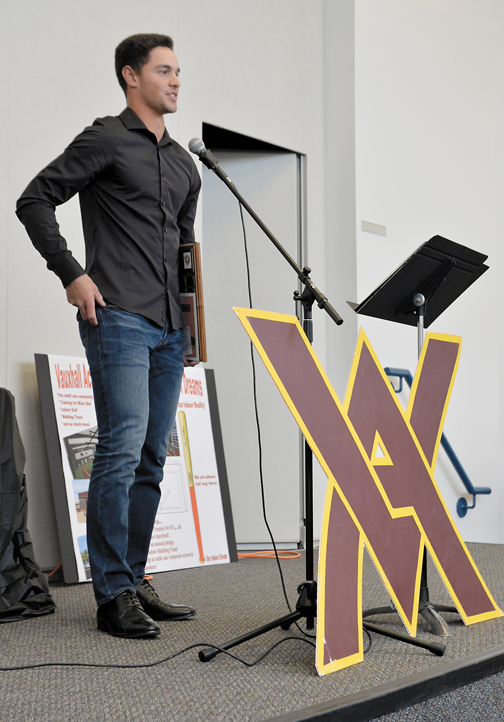 HONOURS: Toronto Blue Jays draft pick Damiano Palmegiani gives some words of thanks after receiving the Kalvin Odland Memorial Award at the Celebration of Achievement earlier this month. ADVANCE PHOTO BY GREG PRICE
By Cameron Yoos
Alta Newspaper Group
Vauxhall Academy of Baseball was represented by past and present at the Major League Baseball draft, when Damiano Palmegiani and Ben Onyshko had their names called.
Palmegiani, a third-year infielder with the Jets originally from Cloverdale, B.C., was selected in the 35th round, 1,046th overall by the Toronto Blue Jays.
Palmegiani has committed to California State University, Northridge California and is currently playing with the Canadian National Junior Team.
Onyshko is a 2014 graduate of the Vauxhall program. The left-handed pitcher was drafted by the Seattle Mariners in the 24th round, 718th overall.
Onyshko, who pitched one season with the Lethbridge Bulls, is playing for the Stetson Hatters and is slated to compete at the NCAA Division One super regionals.
Onyshko was originally drafted by the Milwaukee Brewers in 2014.
Other recent MLB draft choices out of the Vauxhall Baseball Academy include Josh Burgman, a 2016 draft choice of the St. Louis Cardinals who is attending University of Washington; Chris Thibideau, a 2013 selection of the San Diego Padres attending North Florida University; Adam Nelubowich, drafted and signed by the Houston Astros in 2013; and Logan Seifrit, a 2012 choice who signed with the Seattle Mariners.
There have been 15 players from the Vauxhall program drafted by MLB teams since 2007.