Queens continuing 2A dominance
Posted on September 27, 2018 by Vauxhall Advance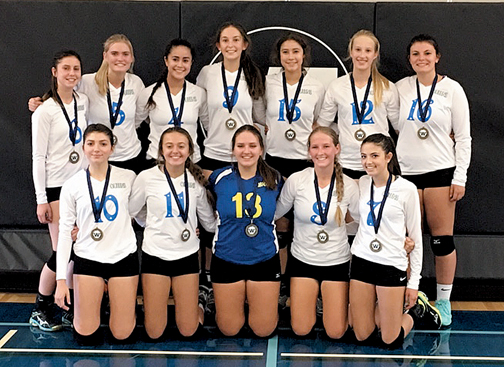 MEDAL MOMENT: In what looks to be a common occurrence for the girls high school volleyball season, the Vauxhall Queens will be racking up tournament championships, having already earned three on the young season. PHOTO SUBMITTED BY SCOTT REILING
By Greg Price
Vauxhall Advance
gprice@tabertimes.com
If the start of the high school volleyball season has proven anything, it's that the Vauxhall Queens girls volleyball team will not be relinquishing their crown any time soon as royalty among the 2A provincial contenders.
Numerous tournament wins have already been on the slate as the team has the look of a provincial powerhouse in the early going.
As tradition in recent years, the Queens traveled to an exhibition tournament in Hawaii to shake off the court rust in the warm climate in August. The team also got to go snorkeling, swim with dolphins and went to a luau.
"It's a great cultural and learning opportunity. It's not a tournament where you play until say there is a winner. There were five teams from Hawaii and ourselves and we just played a full round-robin," said Scott Reiling, head coach of the Vauxhall Queens girls volleyball team.
With no air-conditioning, it meant for plus-30 temperatures on the gym floor.
"Some of the public schools were a little weaker, but most were at our level with some fairly scrappy teams."
The Queens tournament run has included a date at F.P. Walshe in Fort Macleod, dominating everyone in their wake to the title.
"We have a lot of returning parts from last year. Even when we went to the Lethbridge College tournament, everyone was trying to stay away from us. It's a good feeling being a very small 2A school and having 3A and 4A teams avoid us as long as they could," said Reiling. "We played the Chinook JVs in the final (F.P. Walshe). We had to work hard for our parts. It was a good tournament where our Grade 10s got some minutes. A real strength of our team is our volleyball IQ is through the roof, our Grade 10s have already picked that up."
At Lethbridge College the following weekend, the team kept rolling up until the final where previously the team had not been pushed. The Queens would eventually beat McCoy 25-18, 22-25, 15-5. Addi Wolosuk was voted MVP of the tournament.
"I have a group of kids that just love volleyball who make it a priority. They can't play enough and they enjoy the game. Our practices are always good because they want to be there, not because they have to be there," said Reiling. "At the beginning of the year I was a little concerned because we lost two thirds of my passing core as starters along with a pretty good leader. But the two girls that have stepped in there have done a fantastic job. And our offence has been so strong that we don't have to be perfect on serve receive. We have players that just wail on the ball with some big leapers this year that are putting pressure on the other team. Defensively, we pursue the ball for so long."
The team's most recent tournament was in Didsbury/Carstairs. It served as a pre-provincial showdown with teams from up north and also teams from Saskatchewan, with again the Queens ruling its opposition on the way to the championship title over Strathcona Tweedsmuir.
"Looking to the future, I think we will have to monitor our minutes a little more for our starters, but for the most part, we were machines across the board. It can be tricky sometimes because when in my opinion you have one of the best players in the province on your team, you don't like to pull her off very often," said Reiling.
"The competitive teams were there from all over the province who typically do well at provincials. Our quarter-finals were 13 and eight and our semifinals were eight and nine I think."
With another extremely competitive 2A team in tow, Reiling tips his hat to the girls volleyball culture that has been cultivated in the Vauxhall area that helps strengthen the high school program.
"Volleyball is a simple game with trying to limit your unforced errors and putting pressure on the other team. You limit unforced errors and look for opportunities to score. The girls are confident in doing it, they play club volleyball, they go to camps," said Reiling. "I'm not getting those raw players coming up. I'm getting kids, I'm seeing kids in Grade 8 and 9 and they have already played three or four years of club. They get the game so we are not teaching the basics. You are refining things."
As dominant as the Queens have been to date, dropping a mere set during regular-season tournaments, Reiling added the Queens are not resting on its laurels.
"We have tons of stuff still to do and we are going to keep pushing forward to make sure no one catches up," said Reiling. "There are things we can get better at. We are not at a stage where we are saying 'gee, I wish zones were next week'. We need time to get better and we are going to get better."
The Queens have a tournament in Camrose this weekend coming up. The Queens will be hosting its home tournament Oct. 5-6.
"Camrose is hosting provincials this year, so it's another pre-provincials showdown. There will be teams from up north so it will be good to see some different teams," said Reiling.